Wednesday October 11 2023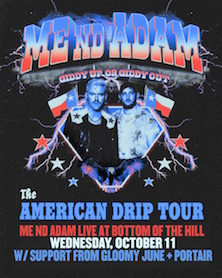 8:00PM

doors -- music at 8:30PM
••• 21 AND OVER
$
18

in advance

/ $20

at the door
Howdy Gals

presents...


Gloomy June
gloomyjune.com


moody pop


ME ND ADAM


The American Drip Tour


mendadam.com


trashwave, alt rock & pop, country


Portair
instagram.com/portair


acoustic singer songwriter




---

Gloomy June
-from San Francisco, CA
-gloomy june is a California indie pop band made up of singer Alexi Rose Belchere (she/her), guitarist Devin Nelson (he/they), bassist Jack Sundquist (he/him), and drummer Ash Hyatt (they/them). Named for the cold fog that surrounds their hometown of San Francisco at the beginning of the Summer, gloomy june is the soundtrack of a beach party tinged with melancholy.

In an era where fear and uncertainty are our closest companions, gloomy june is there to tell you uncertainty can be okay. gloomy june songs are pop refracted through an anxious lens: sometimes anthemic, often queer, and always a little tragic. Written through late 2020 and early 2021, when the global pandemic made going to house parties and shows seem like a past life, their recent EP "Popsick" explores social woes with a near-nostalgic tone. If you've ever felt "othered", or if the world has made you more anxious than you're used to, come find your friends at a gloomy june show.




ME ND ADAM


-from Austin, TX


-Me Nd Adam is a pair of friends who found each other in the throes of nihilistic debauchery and breakups. As the world turned its back, Adam and Vince turned to music. Known to their fans for their heartfelt anthems, accessibility, and rambunctious behavior, Me Nd Adam are the original trash-wave trail-blazers.

The Austin, TX based duo saw lightning strike in 2020 when their single "Heartbreak Kid" garnered millions of streams. The success of "Heartbreak Kid" attracted the attention of Las Vegas-based indie label, Handwritten Records.

After signing with Handwritten Records, the band dropped a string of singles in the run-up to the November 2020 release of their debut album American Drip Pt. I (ADP1). The album's singles earned coverage in Rolling Stone, Alternative Press and American Songwriter, with "Something Better" scoring a spot in Earmilk's Best Songs of 2020 (Indie & Alternative) and The Line of Best Fit awarding ADP1 an "8/10," noting the the album "contains stunning elements of comfort, sadness, excitement, resentment and happiness — and encapsulates the woes and tides of life and all its ups and downs it hurls at us...a relatable, clever and meticulously produced album [and] offering something for everyone." Atwood Magazine included ADP1 as one of the "Top 50 Albums of the Year" for 2020.

The Killers gave ADP1's single "The More I Grow Up" a nod, shouting out the track on their social media. Unprecedented support from The Killers' fan base led to arena opening slots for Me Nd Adam in Dallas and Austin. The mentorship culminated with a direct support slot for The Killers' 2022 New Year's Eve party at The Cosmopolitan in Las Vegas.

Me Nd Adam's sound is reminiscent of classic American songwriters like Tom Petty and Bruce Springsteen with a contemporary twist of alternative rock and pop production. The band's influences range from Willie Nelson to Meek Mill and Jason Isbell to Blink-182.

Me Nd Adam has recently appeared at SXSW, Austin City Limits Music Festival and Shaky Knees Music Festival. Invigorated by the woes of their largest national tour yet, spanning 23 cities, Me Nd Adam is currently releasing singles leading up to their sophomore album, American Drip Pt. II, due out July 28th, 2023.




Portair


-from Canberra, AU




-"It is always difficult writing such personal things and knowing the people closest to me will speculate that they played a part in that. For me, this is a cathartic outlet. I hope it can be that for other people, too."