Tuesday October 17 2023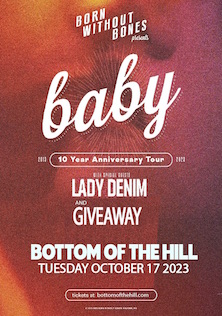 8:00PM

doors -- music at 8:30PM


••• ALL AGES




$

15

in advance

/ $18

at the door




10 Year Anniversary Tour...


Born Without Bones
bornwithoutbones.com


pop punk


Giveaway
instagram.com/giveawayband


grunge post-rock


Lady Denim
ladydenimband.com


80's pop and Indie Rock




---

Born Without Bones


-from Milford, MA


-Born Without Bones has always been a band that didn't quite fit in. While rooted in the Massachusetts DIY punk scene, they've always pulled from a wide range of influences and Young At The Bend sees the band confidently following their own path. Traces of the big guitars and even bigger hooks of '90s alternative mix with the storytelling and subdued tones of heartland singer/songwriters, forming a sound that is distinctly their own. Born Without Bones' emphasis on crafting pop hooks sets them apart from most of their punk scene peers, and Young At The Bend takes this focus to a new level without shying away from a dose of experimentation or a burst of aggression. The result is an album as diverse as it is powerful.

Young At The Bend represents a substantial step forward musically for Born Without Bones, but vocalist/guitarist Scott Ayotte found himself in new lyrical territory on the record as well. Loss and darkness have often appeared in his lyrics, but the passing of his grandmother shortly before recording had a deep impact on the album. Losing such an important figure left Ayotte reevaluating his life, including his approach to the band. The reverberations permeate Young At The Bend, as Ayotte's evocative lyrics work to process grief amongst the sense of the existential confusion that comes with adulthood.




Giveaway


-from the Bay Area, CA






Lady Denim


-from Fort Collins, CO


-Lady Denim officially surfaced in January of 2019 while attending Colorado State University. Just a few weeks into that same year, they released "Pipe Dream" which would be the first track off of their debut EP, "For Edgy Girls, Like Ramona".

Early on, they performed their limited discography at dive bars and crammed college basements, garnering a cult-like fanbase along the way. They quickly transitioned to headlining prominent venues around Colorado and supporting national acts, such as Saint Motel, SPORTS, Vacations, The Unlikely Candidates, Generationals, Spin Doctors & more!

The band pulls elements of 80's pop and Indie Rock together to create an upbeat unison. Their fanbase continues to remain dedicated to the energy and positivity that the band provides.