Friday October 20 2023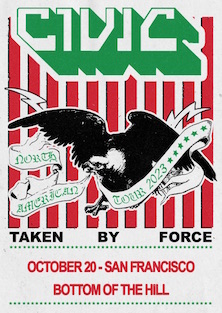 8:00PM

doors -- music at 8:30PM


••• ALL AGES




$

17

in advance

/ $20

at the door


CIVIC
www.civicivic.com


rock


Street Eaters
linktr.ee/streeteaters


Postpunk


Garras Sucias
facebook.com/Garras-Sucias


garage punk rock




---

CIVIC


-from Melbourne, AU


-One of the most exhilarating bands to emerge in recent years, CIVIC have reimagined the reckless intensity of proto-punk for an era of endless uncertainty. On their 2021 debut album Future Forecast, the Melbourne-based five-piece offered up a barrage of songs matching their frenetic sound with both self-aware outpouring and incisive observation of the world around them—a dynamic that's earned massive critical acclaim as well as admiration from the likes of punk legend Henry Rollins. As further shown on their upcoming sophomore full-length Taken By Force—an album the band aptly sums up as "1984 meets Endless Summer"—CIVIC joyfully obliterate the line between furious catharsis and unbridled fun, introducing a vital new energy into today's musical landscape.

Hailed by Stereogum as "an unholy lo-fi pile-up of garage rock, punk, and '90s-style noise-rock," CIVIC inject every song with a visceral urgency hinting at their shared history in the local hardcore scene. As frontman Jim McCullough recalls, the band first took shape back in 2017, when he and a friend dreamed up a musical project inspired by iconic Australian punk acts like Radio Birdman and The Saints. "We were in a bowling alley in Japan and came up with a very strong focus for what the band could do, which was take that three-chord '70s punk sound but get a little more thoughtful with the melodies and songwriting," says McCullough. Upon returning from Japan, McCullough soon recruited a full lineup featuring Lewis Hodgson and bassist Roland Hlavka. Within six months, CIVIC had banged out their debut EP New Vietnam—a powerhouse 2018 release that prompted Vice to crown the band "Melbourne's New Kings of Wild Rock And Roll."

Over the next few years, CIVIC made their name as a captivating live act defined by masterfully controlled chaos, embarking on a European tour in 2019 and taking such esteemed stages as Victoria's Golden Plains Festival. "With our live shows we've always made a point of being super-loud and in-your-face," says McCullough. "As an audience member I've always enjoyed that feeling of really believing in the band but also feeling like everything's teetering on the edge of falling apart at any second." With the arrival of the rapturously received Future Forecast—praised by NME as "an album that rivals real-life gig-going"—CIVIC found their fanbase expanding far beyond their homeland, inking their deal with ATO Records in late 2021. After a lineup change, with guitarist Jackson Harry and drummer Matt Blach joining the fold, CIVIC next set to work on Taken By Force.

For the making of Taken By Force, CIVIC holed up for a week at Harry's father's house deep in the Castlemaine countryside, enlisting Radio Birdman frontman Rob Younger as producer. "Instead of recording sporadically over six months or something, we wanted to build our own ecosystem in this space and allow for a bit more spontaneity," says McCullough. Mainly recorded by Blach, Taken By Force lifts its title from a jangly yet bombastic track perfectly encapsulating the album's underlying narrative. "It's a song about the collapse of the Western empire and the rise of a new one," Hodgson reveals. "An empire's collapse can take hundreds of years, but this was a vision of a quick complete takeover—a sci-fi ending to an archaic reign, but with surf elements added in for fun. At the time when we wrote the album it felt like the Western world was headed for a quick death, and 'Taken By Force' was an expression of all of the fear coming from every media outlet."

Mixed and mastered by Mikey Young (Total Control, Eddy Current, Sonny & the Sunsets), Taken By Force opens on an ominous intro whose origins echo the charmed nature of the recording process. "We knew we wanted to start the record with war sirens, but we didn't want to just grab them off YouTube," McCullough says. "One night we all woke up to these emergency sirens going off, so I ran out into the paddock and recorded it on my phone. We had Lewis and Blach set up two snares across from one another and pound out a marching drumbeat at about two in the morning—the whole thing was so intense and creepy and incredible."

All throughout Taken By Force, CIVIC set their artful venting of existential dread against a backdrop of blistering riffs, thrashing rhythms, and shout-along-ready vocals. On the album's lead single "End of the Line," for instance, Hodgson delivers a glorious 12-string guitar solo that adds a galvanizing potency to McCullough's lyrics, a ripped-from-real-life meditation on the precariousness of mortality. "I wrote that song about a solo trip I took around Europe in my early 20s, and the anxiety of realizing I had no one to protect me but myself," says McCullough, an accomplished painter who tends toward an impressionistic approach to songwriting. "It's about the realization of your own mortality, and finding peace in a chaotic moment that you have no control over."

Although much of Taken By Force abounds with images of dystopian warfare—bloodied bodies, funeral pyres, skies lit up in the blazing flames of burning trash—its songs often explore the more intimate aspects of the human experience. With its spectral textures and hypnotic guitar tones, "Trick of the Light" finds McCullough slipping into a laconic drawl as he narrates a quietly chilling portrait of cycles of abuse. "It's about a friend trapped in an abusive marriage, a story of running away only to find that the life you left will always be there waiting for you," says Hodgson, who wrote a number of songs on Taken By Force. A frenzied blast of raw tension, "Born in the Heat" captures the psychic unrest of feeling hopelessly detached from your own surroundings and circumstances. "'Born in the Heat' is about being forced to leave somewhere you felt was home, and conforming to an idea that you don't believe in," McCullough says. One of the most effusive moments on Taken By Force, "Time Girl" arrives as a bouncy piece of surf-punk propelled by Hodgson and Harry's driving guitar melodies. "Lyric-wise, it's purely an angst-driven heartbreak song from the perspective of an early-'20s scumbag—but it's still a lot of fun to play," says Hodgson. And on "Blood Rushes," Taken By Force winds down with a lush and sprawling track whose pummeling drums and crystalline guitars magnify the moody longing of McCullough's vocal work. "Lewis and I each wrote half the lyrics, and I mostly ended up writing about anxiety," notes McCullough. "My verses are about new love and trying to protect that in a violent world, like trying to keep a candle alight in a cyclone," Hodgson adds. "It's about wanting to have your own world away from everything, wanting that feeling to last a little bit longer before it all comes crashing down."

In sharing such an immersive and emotionally arresting body of work, CIVIC ultimately hope to leave listeners with the same revelatory sensation they found in discovering the music that's shaped them. "Lewis and I were talking about listening to the Stooges for the first time as kids and feeling completely overtaken by it," says McCullough. "It would be amazing to have that same kind of impact, to make people feel something like 'This music speaks to me.' Even if it's as simple as making them realize they just really love rock-and-roll, I think there's something meaningful in that."





Street Eaters


-from Berkeley, CA


-Truewave//Punk band from the bay area

Megan March, John No, Joan Toledo.





Garras Sucias


-from Oakland, CA




-Garras Sucias was born in 2021 during the pandemic that hit the world. From the ashes of The Sweet Bones, a garage punk rock band from the Bay Area, rises a new fury, undefined by modern thresholds. Garras Sucias takes garage and punk rock beyond their genres. They are influenced by The Kinks, The Ramones, Primal Scream, The Clash, and MC5, with Latin, garage, surf, and punk sounds at play. Spanish lyrics, strumming guitars, raw emotions, harmonies, and riffs are all part of this high energy music. Garras Sucias takes listeners through stories of love, sex, drugs, and an avalanche of rock. This is a gang of four modern lovers with battery acid surging fiercely through their veins. Their unique bilingual set will infect you with its energy.