Friday October 27 2023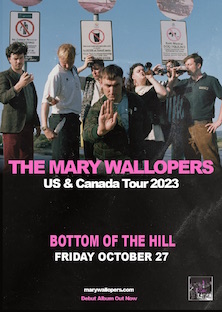 8:30PM

doors -- music at 9:00PM


••• 21 AND OVER




$

18

in advance

/ $20

at the door


The Mary Wallopers
www.marywallopers.com


irish punk folk


Sam Shackleton
samshackleton.com


scottish folk blues




---

The Mary Wallopers


-from Dundalk, IE




-The Mary Wallopers - brothers Charles and Andrew Hendy and their friend Sean McKenna - started as a three-piece Irish ballad group traveling the length and breadth of the country singing & collecting songs. Their early live performances exuded a raw energy best described as Dead Kennedys meets The Clancy Brothers, and their first five track EP - 2019's A Mouthful of The Mary Wallopers - perfectly captured their sound and ethos, one filled with warmth, intimacy, chaos and enough sparks ready to light any fire. To capture the chaotic energy of their famous livestream, the Wallopers expanded to a seven-piece, including Roisin Barret on bass, Brendan McInerney on drums, Seamas Hyland on accordion and Finian O' Connor on tin whistle. When lockdown restrictions lifted, the band picked up where they left off, playing to ecstatic audiences of 1500 people a night at two sold out gigs at the prestigious Vicar Street in Dublin before blazing a trail through the UK, ending up with a raucous sold out date at the Powerhaus in Camden.






Sam Shackleton


-from Edinburgh, UK


-SAM SHACKLETON also known by his Gaelic moniker, Sorley the Bard, is a Scottish singer-songwriter and folk artist. His music is greatly inspired by the rich inter-connected musical oral traditions of Scotland, ireland, and the United States. Strongly influenced by the 1960's folk revival, his unique sound is a mix of country, old time, traditional, folk, and blues with a Scottish spirit. He was born in Stirling and raised all over Scotland, from the Borders to the Highlands and his music is deeply inspired by the oral tradition, musical culture, and landscapes of Scotland.

Sam also holds a research masters degree with distinction in Scottish Ethnology from the renowned academic folk music institution, the School of Scottish Studies, specialising in folklore and ethnomusicology. He spends his days writing, performing, and busking across the world, sharing his unique and authentic musical style through his own writing and interpretation of the folk traditions, songs, and ballads that came before him. He views all of his music as part of the carrying stream of folk tradition.

After building up a large local following busking and performing sold out gigs in his hometown of Edinburgh, Sam quickly burst onto the US and international folk scene in 2020 after featuring on popular Nashville based country and folk music channel, GemsOnVHS, with his videos gaining hundreds and thousands of views on YouTube and Instagram. He has since released his popular debut album Causeway Recordings Ė awarded Top of the World by Songlines magazine - and his subsequent EP Scottish Folk Ballads of Freedom to much critical acclaim. In recent months, Samís videos busking around Scotland have been going viral on TikTok and Instagram and he has also gathered a large and loyal fanbase of followers and listeners on Spotify and YouTube.

Sam has just finished touring with popular American artist, Pokey LaFarge and his band, supporting them on 14 dates across 6 different countries (Scotland, England, France, Belgium, Netherlands, and Germany) in many historic and sold out venues such as New Morning in Paris and De Roma in Antwerp.

Sam has also recently finished a large tour supporting popular Irish folk band, the Mary Wallopers, from October-December 2022, performing 25 dates in multiple cities across Scotland, England, and Ireland, at many historic venues such as playing to over 1500 people in the sold-out Electric Ballroom in London. He has also recently opened shows for Willie Nelsonís son, Lukas Nelson and popular folk singer Willi Carlisle.