Thursday November 2 2023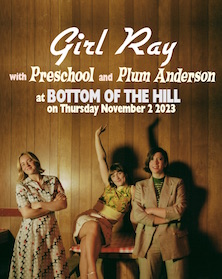 8:00PM

doors -- music at 8:30PM


••• ALL AGES




$

16

in advance

/ $20

at the door


Girl Ray
girlray.co.uk


indie disco pop and folky psychedelia


Preschool
instagram.com/presch00l_sf


indie rock proto punk


Loserlees
instagram.com/loserlees


indie alternative




---

Girl Ray


-from London, UK


-Girl Ray have never been afraid of switching it up. In the space of just three albums they've gone from janglepop darlings to being one of the most exhilarating and original pop bands around. Making their timely return with an album of unapologetically escapist alt-pop anthems, they shape-shift again on their new album, Prestige, as they look back to the post-disco dancefloors of the early eighties with a record that feels almost subversive in its sanguinity.

Co-produced by Grammy Award winning producer, Ben H. Allen (M.I.A, Gnarls Barkley, Christina Aguilera, Deerhunter) along with the band's singer and songwriter Poppy Hankin Prestige takes the shambolic charm of their debut and the indiefied R&B of their last album and injects it with a booster shot of Hi-NRG eighties disco pop.

Bringing their deep understanding of modern pop and the bittersweet melodies of ABBA and Kate Bush and mixing it all together with the post-punk playfulness of Orange Juice and a love of Donna Summer and Yellow Magic Orchestra, Girl Ray have come back with a life affirming celebration of the transformative power of pop music at its most glorious.

Formed when they were still at school, North Londoners Poppy Hankin, Sophie Moss and Iris McConnell released a near perfect string of heartfelt indie singles - beginning with 'Trouble' in 2016 - that owed as much to faux naïfs like Jonathan Richman and Marine Girls as it did contemporaries like Cate Le Bon. Their debut album Earl Grey was released to widespread critical acclaim a year later, before they went through a full sonic make over on its follow up. Girl, in 2019.

Packing up their indie credentials and following their hearts into frothier waters, their second album found them channelling their inner Ariana Grande as they doubled down on their love of R&B and chart pop with the help of Christine and The Queens producer Ash Workman; ending up with something that combined the excitement of Rihanna's 'If It's Lovin' That You Want' with the eye-rolling, impenetrable humour of a girl gang. And now with Prestige they switch it up all over again.

Waiting for a spark of inspiration for where they might take the Girl Ray sound next, Poppy found it in Pose, the television drama about New York City's queer ballroom scene in the 80s. Squashed into the back of a tour bus driving around Europe at the beginning of 2020, looking out of the window at the rain outside, missing her girlfriend back home and looking for an escape, she started recording demos inspired by its soundtrack on her laptop in the back of the bus and opened up a make-believe club in her imagination. A club that was a big-hearted celebration of inclusivity and individuality and glamour; everything she felt was missing from the rain soaked post-Brexit landscape they were driving through. The club was called Prestige.

"That's one of the ideas we started with", she says. "Then also Dua Lipa put out her record and there was Kylie, Roisin Murphy, Lizzo and Jessie Ware; all of these very amazing, powerful pop women doing disco in a really cool sleek way."

There was a time when pop music was full of pop stars like Girl Ray. As the late seventies rolled over into the eighties, the landscape of pop music was alive with its great eccentrics, embracing the playful post-punk spirit of new wave and the second phase of disco coming out of the New York underground. They were everywhere. From Altered Images to The Go-Go's, Prefab Sprout and Postcard Records, Bananarama to The B-52s; weird and wonderful, unable to be moulded and unafraid of not fitting in, bold and brilliant and unlike anything else. Singers and songwriters whose affection for pop music ran so deep that all they were ever cut out to do was be on Top Of The Pops. Their only media training coming from sitting in their bedrooms with a pile of records they'd picked up in charity shops and practicing in front of the mirror with a hairbrush. Girl Ray are those kinds of pop stars. The sort of pop stars who write songs that can save your life, because when people who truly love pop music make pop music, they make the best pop music in the world. Songs that make you want to dance and cry and bounce up the stairs on the bus. Songs that make you feel like you're not so alone in the world.

"A lot of the musical influences are what I would unashamedly listen to and sing along to in the car with my mum when I was growing up", Poppy explains. "Wham! and Madonna and all those songs that you listen to as a kid. That was kind of the thinking, just trying to recreate that shameless pop."

Their last tour ended just as the world shut down. The summer of festivals they were booked to play never happened and Poppy, Iris and Sophie all retreated to their separate corners of London. Like all of us, suddenly unable to go anywhere and stuck inside all day, it felt like they were all slowly regressing to being teenagers again, sitting in their bedrooms waiting for their lives to begin. Just like they had when they first formed Girl Ray.

The band's songwriter Poppy found solace in daydreaming about the same things she had when she was younger: escaping to her fantasy clubland and dancing with her friends and falling in love. Prestige's epic album closer, 'Give Me Your Love' was a party anthem lost to a time when no one except the Conservative government was partying. Produced by Al Doyle and Joe Goddard from Hot Chip, the seven and a half minute single is a yearning love letter to classic house and euphoric electro that sounds like Arthur Baker remixing The Raincoats. It's what Girl Ray imagine might have been playing on a Saturday night in the eighties as they checked their coats at Paradise Garage. It's pop music as pure fantasy.

"Prestige as a concept is such a fantasy anyway", explains Sophie. "The whole idea of 'the club' and us going out. We don't do that. It's complete fantasy."

The overarching narrative of Prestige is love: falling in it and being afraid of getting hurt by it; being all alone and longing for it; the tensions between what it is and what you imagined it would be. The strength of Poppy's song writing has always been its fragility. It's sensitive and bashful and intimate and feels like she's breathing her secrets into your ear. On the new record, she's taking that tender, unspoken, human connection out onto the dance floor and spinning it around, letting herself be lifted up by love and then looking down and realising just how far she has to fall.

"It's definitely the most optimistic Girl Ray record because it's a love record, and I've never written one of those", Poppy says. "I've written about love before, but only from the other side. I mean, there's obviously still some misery in there because even when I'm in love, I'm still worried about it." "Call me when you want to get a coke and sit on the wall", she sings in 'Hold Tight' and it feels like a gigantic Wordsworthian declaration of love. It's this (extra) ordinariness that sets Prestige apart from the formulaic nu-disco glossiness of Dua Lipa or Kylie. It comes from a completely different place. Girl Ray are pop outsiders sitting on the sidelines and outsiders divine the world differently. They can't stop being who they are. If they could, they'd just be like everyone else: boring.

When they finally got to leave their bedrooms again the band flew over to America to make the record at Ben H. Allen's Maze studios in Atlanta. It was the first time the band had been together as just the three of them since they made the second album. As the trio have gone from being schoolfriends making up silly games in the back of class to the sort of pop stars they always dreamed of being, their friendship has always been what's made their songs so life-affirming. One of those games from their school days even ended up giving the album its title.

"We came up with the concept when we were at school", remembers Sophie. "We were really bored and we just came up with this game. We'd just find something and rate it on how prestige it was and discuss the ethics of prestige."

"I think it's all part of the fantasy", says Iris. "It's just a word that we've always used as teenagers to describe this make-believe world we live in."

And now this fantasy world is all yours to dance about in with them. Prestige is the sound of Girl Ray reclaiming disco music as the celebration of sexuality and outsider culture it started out as. It's a beautiful place. Check your coat and grab a Cosmopolitan. The party's only just getting started.




Preschool


-from San Francisco, CA




-Preschool is a three piece amalgam of efficacious psychedelic surf-punk served in a flagon of sacchariferous garage rock based in San Francisco.






Loserlees


-from San Francisco, CA




-LGBTQ indie alternative group LoserLees originally began as a solo project by Lees Akard in 2019. Slowly becoming a collaborative effort, the project became a full band in 2021 with members Dilly, Johnny, and Ben who have evidenced the band's growth in the Bay Area indie scene. Their catchy songs are led by melancholic vocals accompanied by twangy modulated guitars. With recently adding a new member, LoserLees is ambitious to perform and expand.