Saturday November 4 2023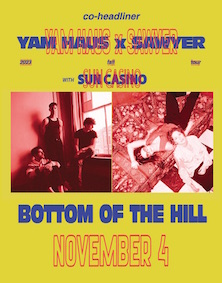 8:00PM

doors -- music at 8:30PM


••• ALL AGES




$

18

in advance

/ $22

at the door




Yam Haus

[co-headlining]


www.yamhaus.com


deep house electronic future bass


Sawyer

[co-headlining]


thebandsawyer.com


Indie Sparkle Pop


Sun Casino
suncasinoband.com


indie rock




---

Yam Haus


-from Minneapolis, MN


-A lot of musical acts try to build on the success of their early music. But for indie pop-rock band Yam Haus, each time they release new music is a new step in their musical evolution — particularly this time around.

It's been a half-decade, a lot of touring, three EPs, more than a dozen singles, a lost band member, an appearance on American Song Contest and a global pandemic since the Minneapolis-based trio last put forth a project. In other words, the Yam Haus preparing to release new music in 2023 is nothing like the kids who took the Midwest by storm a handful of years ago.

"I feel like so much has happened since the first songs and this doesn't even feel like it's our follow up," says guitarist Zach Beinlich. "I feel like a new band. We have a totally different way that we're approaching how we create music."

"I genuinely feel less concerned about whether or not the next album is going to be 'successful' at this point," adds singer and guitarist Lars Pruitt. "All I'm really concerned about is doing right by us and making something that we feel motivated to play live and love every inch of it for years to come. I'm just trying to do things in a way that's super honest to us and our tastes — and hopefully the fans come along with us."

As one of the newest additions to Big Loud Rock's roster, Yam Haus' search for authenticity has found the perfect home. Pruitt, Beinlich and drummer Jake Felstow know they could've gone down a more mainstream pop-friendly rabbit hole for their new releases if they'd listened to the industry suits and producers around them after their sold-out headlining shows before the pandemic. Instead, they spent their time taking their music in a new direction.

The result is a catchy blend of indie rock that still serves up the unforgettable hooks Yam Haus became known for, while also bringing a new level of songwriting maturity and musical complexity to their tracks. The band is growing up alongside the Gen Z audience that dove into their old music, while also allowing their personality and humor to shine a bit more and earn an expanded audience with the new stuff.

"We're really excited about the new music, because it feels like it's the first time in a long time that we're creating it as a unified front," Felstow says. "That's exciting for us, and hopefully it translates to the people listening to the music. We really put our best foot forward, and we're loving it."

"Even if it fails, at least it fails on our terms," Pruitt adds. "The worst-case scenario is to make compromises, do things based on what other people think, and still not have it go very well. That's not to say that's what we've done up to this point, but we just realized we need to take an inventory of what we wanted. We made sure we were doing it for the right reasons and not just what we were being told to do."

"We're making and releasing whatever we're feeling at that moment," Beinlich concludes. "I think we've done a good job with that so far, and it's given us a couple of songs that are very different from what we might've done in the past. They may not feel like they fit with everything else that we're doing — like one song has a trumpet in it — but it always just feels like what we need to get out at that point. We're not trying to fit something in where it doesn't belong, but if it feels right and we like it, we put it out."

So far, that policy has been working out for Yam Haus and pleasing fans throughout the twists and turns of their musical journey. Ahead of the new music's launch, the band started performing tracks that haven't even officially been released at recent shows. And much to their surprise, their audience started singing the lyrics back to them after learning the songs from social media and single releases.

But despite the sustained success on both sides of the pandemic, Yam Haus feels like they're just getting started. At the very least, Pruitt's committed to the journey in ways not easily changed.

"I got the band tattooed on my ass, so I'm here for the long game."




Sawyer


-from Nashville, TN




-Sawyer is the Nashville based duo of Kel Taylor and Emma Harvey. The band came into creation in 2015 after merging each of their solo projects. Since blending their voices and their narratives they've found fans across the country who've fallen in love not only with their music but their personalities. On TikTok they've sho wcased their humor and wit garnering +40k followers on the platform. On the road they've had tour support slots with The Aces, Nightly, and joan among others. In September of 2021 they signed their first publishing deal with Sheltered Music and Nashville b ased producer Cameron Jaymes (Daya, Spencer Southerland, Nightly.) The duo will be releasing more music through the end of 2020 and 2021.






Sun Casino


-from San Francisco, CA




-A by-product of quarantine, Sun Casino was formed by 3 SF transplants hailing from Atlanta, Nashville and SLO. The trio has taken the city by storm with a slew of packed Friday and Saturday night sets at local venues. Sun Casino's catchy lyrics and jangly guitar hooks have resonated deeply with the local SF indie rock scene. Just 3 fellas playing their lil hearts out.