There will be some
tickets available for
sale at the venue
when doors open.
Sunday November 5 2023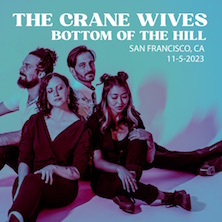 8:00PM

doors -- music at 9:00PM
••• ALL AGES
$
15

in advance

/ $18

at the door
The Crane Wives
www.thecranewives.com
indie-folk
TOMI
thenametomi.com
indie / folk / pychedelic rock
---

The Crane Wives


-from Grand Rapids, MI




-Born of the 2010's folk boom and now comfortably stationed in their rock and roll era, The Crane Wives epitomize the evolving sound of the indie genre. Having performed hundreds of shows on stages across the country, they gravitate toward high-energy melodies, featuring the kinetic percussion of Dan Rickabus, the silky, driving bass lines of Ben Zito and playful guitar leads from front women Emilee Petersmark and Kate Pillsbury. Counterbalancing their lively stage presence, their lyrics extol the shadow side of the human condition, delving into mythology and themes of darkness and inner conflict. The band softens the blows of their emotional candor with soulful three-part vocal harmonies, like a 21st century Cerberus, the hound of Hades reimagined as an emotional support animal. To date, they have released five full-length albums, including their 2020 live album, "Here I Am".






TOMI


-from NY, NY


-TOMI is the genre-bending creation of songwriter/producer Pam Autuori. Self described as "Psychedelic Mom Rock."

Autuori's powerful vocals and an unfettered urgency to do things her own way makes TOMI a must-see live performance. Autuori founded TOMI in 2015 and within two weeks of uploading "Carry You" to Soundcloud, RCA Records signed and released fan favorite EPs "Used To" (2017) and "What Kind Of Love" (2018). After parting ways with the record label and her long term partner in 2020, Autuori flew to her hometown of Connecticut and wrote "Sweet, Sweet Honey" a reckoning of love, forgiveness and the stages of grief - her most lyrically intimate work to date. The War On Drugs heard "Sweet, Sweet Honey" through the wall of mixing engineer Chris Sorem's studio and asked TOMI to join them on tour, beginning a new sonic chapter.

From 90s pop melodies to Laurel Canyon folk to underground house disco, TOMI has created a unique and boundaryless sonic universe. Her debut album "Late Bloomer" (written and produced by Autuori) is an ode to her 20s, and will be released independently under her record label Daddy Records this Fall.