Sunday
November 12
2023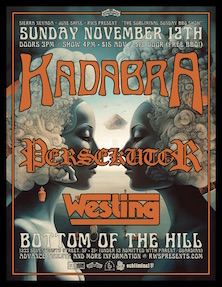 3:00PM

doors -- music at 4:00PM


••• 21 AND OVER




$

15

in advance

/ $18

at the door




[includes free barbecue]




[No Passes. The RWS Coupons aren't valid for this show]




Sierra Nevada, Juneshine, RWS

present...




"The Subliminal Sunday BBQ"


Kadabra
instagram.com/kadabra_band
heavy psych stoner rock
Persekutor
instagram.com/persekutor


stoner doom metal


Westing
instagram.com/westingband


psychedelic rock stoner rock




---

Kadabra


-from Spokane, WA


-The band formed during the dark days of 2020 and were quickly signed by Heavy Psych Sounds, who released Ultra in the fall of 2021 and established the band's penchant for delivering crushing doom riffs and haunting vocals accentuated by bursts of psychedelic flair and swampy Americana swagger. And while the chemistry of long-time friends Garrett Zanol (guitar/vocals), Ian Nelson (bass) and Chase Howard (drums) was apparent upon listening to their debut, their bond was further strengthened by relentlessly touring the western United States and completing a month-long tour of Europe.

The trio almost immediately began looking forward, road-testing and crystalizing the songs that would comprise their follow-up, which found the band reuniting with Ultra producer Dawson Scholz. The result is Umbra: a singular statement that is more focused and cohesive than its predecessor, while managing to capture the immersive, free-flowing experience of their live show. Umbra is set to release on October 6 via Heavy Psych Sounds Records.




Persekutor


-Transylvania, RO




-Conceived in a forgotten corner of Eastern Europe, PERSEKUTOR channel the tradition of early black metal champions like Venom, Celtic Frost and Bathory through the unflinching hard rock efficiency of AC/DC into their own infectious strain of Carpathian heaviness. No album ever demanded to be launched back through time and inserted as score into Escape from New York or The Warriors more convincingly than Snow Business. Bask in its glory or flee for your pathetic life.






Westing


-from Visalia, CA


-Late in 2021, Slow Season announced they'd become Westing, and that Ben McLeod (also of Nashville's All Them Witches) was now in the four-piece on lead guitar alongside guitarist, vocalist and keyboardist Daniel Story Rice, bassist Hayden Doyel and drummer/recording engineer Cody Tarbell. Their new LP (fourth overall for RidingEasy), Future, is not coincidentally titled.

Says Rice, "We wanted to hit the reset button on some things and so we included a new band name to that list. Fresh start, for the psychological effect of it. We first met Ben in 2014 opening for All Them Witches in San Diego, and we did that again in 2016 and he and Cody corresponded about tape machines, music production, and other similar nerd stuff. We started swapping a few ideas early in 2021 and then flew him out for four days in August 2021. We got Future mostly down in that short span and did some remote stuff for overdubs, but nothing major. Obviously, our creative processes jelled pretty well to allow for such an efficiently productive session."

So the story of Westing, and of Future, is about change, but the music makes itself so immediately familiar, it's so welcoming, that it hardly matters. For about 10 years, the Visalia, California, outfit wandered the earth representing a new generational interpretation of classic heavy rock. The tones, warm. The melodies, sweet. The boogie, infectious. They went to ground after supporting their 2016 self-titled third album, and clearly it was time for something different.