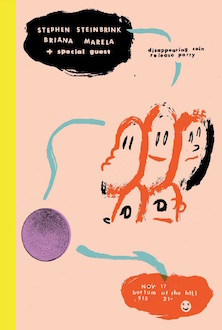 Friday November 17 2023



8:30PM

doors -- music at 9:00PM


••• 21 AND OVER




$

15


Stephen Steinbrink


(Album release)


www.instagram.com/stephensteinbrink


experimental folk pop


April Magazine
aprilmagazine.bandcamp.com


alternative indie pop


Briana Marela
brianamarela.com


ambient experimental indie pop




---

Stephen Steinbrink


-from Oakland, CA




-Stephen Steinbrink was born in 1988 in a non-descript stucco hospital franchise adjacent to a Circle K in the ultra-conservative Phoenix suburb of Mesa, AZ. He grew up and learned to play guitar to deal. The majority of his teens and twenties were spent living an improvised and experimental existence, being nowhere and recording incessantly. His 8 LPs of pop songs have been released in Japan, Europe & North America, and has performed in dozens of countries around the world. As a session player, he has collaborated with Girlpool, Dear Nora, Broken Water, AJJ, Flying Circles, Ever Ending Kicks and LAKE. He currently lives and works in Oakland, CA.






April Magazine


-from San Francisco, CA


-The purest a band can aim for is to present their milieu as a time capsule from the morning of. April Magazine deals deep in the hypnagogic charm of their surroundings. Since the 2018 release of "Shirley Don't"— a sneaky classic that first turned ears outside their SF Bay Area home— the band has stirred out a handful of cryptic indie pop recordings nestled in warm aerosol hiss and scrappy hand-drawn cover art. Music that glints in the far back of an urban daydream where guitars could be bells, bells could be voices, and voices hardly find use in words. If The Ceiling Were A Kite is a document of things losing definition and time gone slack.

The songs on If The Ceiling Were A Kite were recorded over a span of about two years, after Peter, Mike and Kati started playing together around a four track cassette player in Peter's bedroom. Other kindred spirits like Julia Waves, Ian Collins, Anthony Comstock OBC, Zach Vito, and eventually David Diaz joined in on some of the recordings and live shows adding to the collective 'whatever works' ethos of April Magazine.




Briana Marela


-from Oakland, CA


-Briana Marela Lizárraga is a Peruvian American composer, vocalist, and performing artist. She was born in Seattle, WA and later spent time in the Olympia, WA music scene where she first started performing and releasing music. After graduating from Mills College in 2020 with an MFA in Electronic Music and Recording Media, she has returned to a more experimental sound focus than her electronic pop commercial releases for independent label Jagjaguwar.

Her recent work centers the voice, embodied technology through gesture, and enhanced objects. Her gestural song performances draw from elements of both experimental electronic music and vocal driven pop music. Using the visual coding language MaxMSP and machine learning, she is able to make custom tools to use in combination with wearable wired and wireless technology. Her compositions carry varying fixed elements that transition into moments of improvisation.

She is an Allied Arts Foundation Grant recipient as well as an AAUW Career Development Grant recipient. She has toured with artists such as Jenny Hval, Waxahatchee, Emel Mathlouthi and has toured across the U.S., Canada, Mexico, and Europe. She has played such festivals as Sasquatch, Decibel, and Green Man (UK). She has been interviewed by Vogue, Interview Magazine, and Billboard. In 2018 she received a commission from Radiolab's More Perfect Podcast to write a song about the 4th amendment for their album celebrating the constitutional amendments.

Her most recent albums include the independently released You Are A Wave, an experimental electronic music album, marked by the grief of the sudden passing of her father in April 2020, with a focus on voice and Buchla 100. As well as a collaborative album of poetry/spoken word lyrics, noise, and ambient electronic textures with Oakland artist Sally Decker, titled Small Tremble in Slow Motion, released by Surface World in June 2022. This collaboration with Decker was the result of a remote residency with the organization Qubit in NYC. This audio visual collaboration was an exploration of the expansive possibilities of being present with oneself within experiences of deep emotional contraction such as grief and loss.