Saturday November 18 2023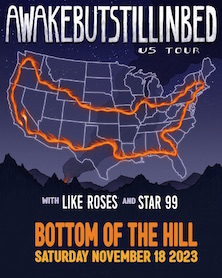 8:00PM

doors -- music at 8:30PM


••• ALL AGES




$

13

in advance

/ $15

at the door


awakebutstillinbed
instagram.com/awakebutstillinbed


emo punk


Like Roses
instagram.com/likerosesca


emo post-hardcore pop punk


Star 99
instagram.com/starninetynine


emo power pop




---

awakebutstillinbed


-from San Jose, CA


-Letís get one thing straight right here ó emo is not a music genre comprising tall, scrawny dudes with long black hair in their face with a red streak in it or something, screaming about how much life sucks and how much women just donít understand the kind of love they have to offer.

If youíre thinking about The Used, Thursday or Thrice when you hear the word ďemo,Ē thatís not what weíre talking about; that is emoís edgier, younger and more popular brother screamo youíre thinking of, and emo is sick of you getting them confused. OK?

If youíre thinking Sunny Day Real Estate, Jets to Brazil or The Get Up Kids, welcome to emoís underground revival! The thing about a show where bands pour their hearts out and audiences purge all the bad thoughts by looking at them come to life onstage is the collective sigh of smiling relief at the show's close.

Emo may be emotional music, but at the end of the night itís not a sad experience.




Like Roses


-from Berkeley, CA




-Emotionally driven rock music from Berkeley, CA






Star 99


-from San Jose, CA




-Star 99 is Saoirse, Chris, Thomas and Jeremy.