Thursday November 30 2023
CLOSED
[as of 11/17]
The previously scheduled show with Paul Cherry canceled.

"Unfortunately the Pure Grooves West Coast tour is canceled.
Tickets already purchased will be refunded".

Thursday November 30 2023
8:00PM

doors -- music at 8:30PM

••• 21 AND OVER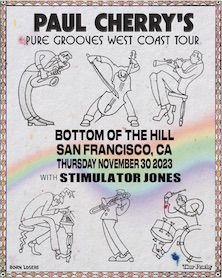 $
18

in advance

/ $22

at the door
Pure Grooves Tour
Paul Cherry
paulcherry.today
performing 2 sets:
1 jazz set from his brand new album
1 set of older work
jazz and indie rock
Stimulator Jones
instagram.com/stimulatorjones
Jazz, Soul, Rock, Blues, Hip Hop, R&B and Funk
---

Paul Cherry


-from Chicago, IL


-Through pining comes purpose. Paul Cherewick, monikered Paul Cherry, makes a departure from pining for an unrequited love on his debut LP Flavour toward the hunger for creative fulfillment on Back on the Music. "Bouncing off the bottom: this pattern is the problem..." is the melancholic opening line of the new album, a meandering meditation on the life of an artist: chasing inspiration, finding community, and the struggle to maintain both. Throughout the buoyant, alright-on-the-outside tracks that make up his second album, Cherry staggers and stumbles back into love with his life and craft.

Cherry began his musical journey in a small suburb of Detroit, playing banjo and guitar into his teenage years. His love for making music brought him to Chicago, where he studied classical composition at university. It wasn't until winter of 2015 when, holed up in his apartment, a converted storefront space without windows in the heart of Chicago's Humboldt Park, that the Paul Cherry sound emerged. Focused sharply on teaching himself the piano, playing through the jazz standards of The Real Book, jazz chords and melodies laid the foundation of Cherry's signature sound as evidenced on Flavour, at times cross referencing more modern takes on pop jazz from Michael Franks, Paul McCartney, Jeff Lorber, and Donald Fagen.

Paul Cherry's music evokes a love for sunny '70s and '80s grooves. Buried beneath cynicism and introspection is a winking optimism. The juxtapositions of Cherry's warm instrumentation and the apathetic lyrics on "More Fun," are an exercise in subversion. "I'm so ready to have more fun with my life," Cherry sings over a syncopated bassline, performed by bassist and collaborator Joseph Faught, convinces us that he's more than ready. He's made it.




Stimulator Jones


-from Roanoke, VA


-Stimulator Jones, aka Samuel Jones Lunsford, is a stunningly versatile multi-instrumentalist, vocalist, beatmaker, producer, DJ, and songwriter born and raised among the nature and wildlife of Roanoke, VA.

After 13 years of work in a plethora of different bands, he adopted the Stimulator Jones moniker at the end of 2013 and began self-releasing music on Soundcloud and Bandcamp. In 2015 these creations attracted the attention of Sofie Fatouretchi - DJ, musician and former employee of Boiler Room and Stones Throw Records. "Soon Never Comes" appeared on her 'Sofie's SOS Tape' compilation the following year and led to an album deal with Stones Throw.

His debut LP 'Exotic Worlds and Masterful Treasures' was released in the summer of 2018, wholly comprising material that he wrote, performed, recorded, and mixed himself. 'Exotic Outtakes', an EP of leftover tracks from the album sessions, was released that fall in conjunction with a US tour. In the summer of 2019 he traveled to Asia for a string of shows in Japan and South Korea.

In May 2020 pop superstar Billie Eilish included "Soon Never Comes" on 'Billie Eilish At Home', an Amazon Music playlist she curated during the height of the COVID-19 lockdowns, in addition to posting the song on her Instagram story twice that year.

January of 2021 marked the release of 'La Mano' in collaboration with Oslo-based independent label Mutual Intentions - an instrumental jazz/funk/fusion album that placed his musicianship at the forefront and featured no sampled or programmed sounds. The title track "La Mano" was selected by legendary UK DJ Gilles Peterson for inclusion on the Brownswood Recordings compilation 'Brownswood Bubblers 12'.

An instrumental beat anthology, 'Low Budget Environments Striving For Perfection', was released in July 2021 on Stones Throw - a dusty document of his lifelong love for hip hop production consisting of raw beats crafted on various samplers and hardware over the course of multiple decades.

Another album of vocal-oriented material, 'Round Spiritual Ring', followed on Stones Throw in July 2022 - a continuation of what had begun with his debut album, but bravely displaying an even wider sonic palette and more expansive lyrical themes.

Samuel continues to compose and perform music on a regular basis in addition to setting magical moods and crafting infectious energy through his DJ sets. A series of EP's consisting of funky, club-friendly deep house music is currently in the works through the Chicago-based indie label Star Creature, in addition to an EP of liquid drum & bass music to be released on Mutual Intentions.