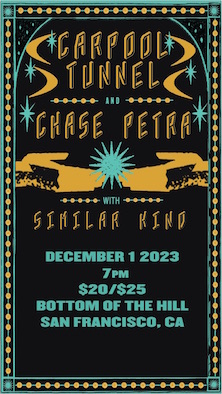 Friday Dec

ember 1 2023




7:00PM

doors -- music at 8:00PM


••• ALL AGES




$

20

in advance

/ $25

at the door
Carpool Tunnel

[co-headlining]


carpooltunnelband.com


60s and '70s-era classic rock and blues


Chase Petra

[co-headlining]


instagram.com/chasepetramusic


indie pop punk rock


Lavalove
lavaloveband.com


indie-pop, surf-rock, blues rock, acid jazz




---

Carpool Tunnel


-from San Francisco, CA




-Carpool Tunnel is a band that emerged from the San Francisco music scene around 2017 and loves to put on a show. With touring being an integral part of their songwriting and functionality, the four songwriters, Ben Koppenjan (Lead vocals, Rhythm Guitar), Bradley Kearsley (Lead Guitar, Vocals), Michael "Junior" Reed (Drums, Keys, Vocals), and Kalani Faith (Bass, Vocals) are set to release their sophomore record 'Don't Let Them Pass You By' on October 20th, 2023. Their experience in studios and touring led the band to make an album that showcases their full musicianship as not only songwriters but also as experienced touring artists. All four members have uniquely influenced the record with their appreciation of both classic and modern music. Although most songs have been written in a stripped-back environment, such as strumming an acoustic guitar on the porch, when the album was brought to the studio the band found themselves adding a playful sonic landscape to their music. This evolution in their songwriting over several years has crafted an album that is accessible to many different kinds of listeners and has expanded on the sounds of the music scene that they came from.






Chase Petra


-from Long Beach, CA


-Chase Petra is a band that exists out of necessity. In other words, within this project, making music is not so much a choice as it is an inherent and inextricable feature of life.

Their debut album Liminal features quarter-life-crisis pop rock tunes rooted in early 2000s pop punk and indie rock. Meanwhile, the songs' subject matter runs the gamut, covering everything from issues of social justice (i.e. sexism, classism) to personal growing pains and on to topics of a more nefarious denotation. Hailing from Long Beach, CA, Chase Petra is willing to go just about anywhere and try just about anything and they are very much looking forward to the future.




Lavalove


-from Los Angeles, CA


-The Los Angeles indie band "Lavalove", is hoping to bring a fresh sound to the music scene. Their music is mixture of modern indie, surf rock, and acid jazz. The band was created in 2019 by lead singer and songwriter, Tealarose Coy. Their goal in creating music is to make others feel a little less alone through their headphones. After a lot of restless nights of writing and recording, she teamed up with lead guitarist, Jenny Quay, and bassist, Stephanie De Santos. Together they created the fan favorited singles such as, "Sweethearts FM" and "Guts". Soon their drummer, Dylan Goldstein, joined the band and they've never had more fun playing live with each other. To many more years of Lavalove.

"One Last Heart" is their most recent single! It was written about the pain of never wanting to hurt someone you love and how inevitable that pain is. They hope everyone has as much fun listening as they did writing and recording.