Tuesday December 5 2023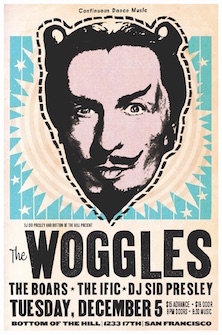 7:30PM

doors -- music at

8:00PM




•••

21 AND OVER




$

15

in advance

/ $18

at the door




The Woggles


thewoggles.com


garage rock




The Boars


facebook.com/theboarssf


60īs garage rock psych




The IFIC


facebook.com/The.Ific.Band


garage rock power pop punk


Sid Presley
www.facebook.com/DjSidPresley


spinning tunes




---

The Woggles


-from Atlanta, GA


-For a band to not only last beyond 30 years together but keep scaling more imposing heights, it's going to need a sense of purpose. In the case of The Woggles, the seasoned garage rockers past that milestone with a renewed rallying cry to move ever forward, despite being rocked recently by the death of their lead guitar player Flesh Hammer aka Jeff Walls..

Jeff joined the band in 2003, after having worked with the Woggles as a producer since their early days. He replaced the Mighty Montague aka George Montague Holton III, who also passed away at a young age. In Jeff's case he died of pancreatic cancer, while George's death was related to his diabetes.

Currently The Woggles have several friends filling in on guitar, including Graham Day (The Prisoners, Solar Flares, Thee Mighty Caesars) and Shane Pringle (Tiger! Tiger!, Bad Spell) while the band looks for a new permanent member.

The band is currently touring in support of a new four-song EP of pineal gland extractions called Please Leave Me My Mind! Out on Wicked Cool Records (Steven Van Zandt's label), each Woggle contributed a song apiece and their respective tunes take up one side each of this double 7? release. It contains the final song from the departed Jeff Walls, "You Better Slow That Little Red Wagon Down." The two 7"s are housed in a spiffy gatefold sleeve with artwork by Scott Sugiuchi.

"The band is not as much an institution as a way of life," says frontman "The Professor" Mighty Manfred. "The main thing is to keep swimming, cause the shark has got to keep moving."

The band continues to feature the sock-it-to-them rhythm section of bassist Buzz Hagstrom and drummer Dan Eletxro, both also sometime members of savage English rockers Graham Day & The Gaolers.

"One of our strengths is that all the members contribute songs and song ideas," notes Manfred. "On Please Leave Me My Mind! Dan and Buzz both have songs that Little Steven picked as Coolest Songs In The World, the title track and "Paisley in Paradise," respectively."

"Alan Freed once said that 'Rock and roll is a river of music that has absorbed many streams,'" quotes Manfred. "The Woggles drink from its many tributaries, from early rock and roll and R&B to '60s garage rock, British Invasion, '60s soul and forward."

Fusing pure rock and soul from vintage sources into their own singular sound, The Woggles lay it down hard and loud but with more majesty than recklessness. Their beats and riffs are as strident as Manfred's swagger and strut onstage. Having played in the past with Johnny Cash, Link Wray, The Zombies and nearly every garage rock group worth its salt, as Meredith Ochs wisely advised on NPR All Songs Considered: "Go see a Woggles show. It will change your life."




The Boars


-from San Francisco, CA




-SF Garage/Frat n' Psych/Pop...we make big partee, yes?!






The IFIC


-from Petaluma, CA




-The IFIC play catchy, fuzzy, three chord Power-Pop songs about love gained, love lost, and the occasional bad day. With members of The Hampton Wicks, Kingdom First, and Bomboras.






Sid Presley


-from San Francisco, CA




-David Greenfield ~ Spinning the obscure hits.