Saturday December 9 2023
8:00PM

doors -- music at
8:30PM
••• ALL AGES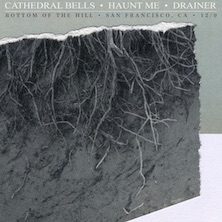 $

15

in advance

/ $18

at the door




Cathedral Bells


instagram.com/cathedralbells


dream pop/postpunk/shoegaze


Haunt Me
instagram.com/hauntme.music


Post-punk/Darkwave/Alternative


No Lights
instagram.com/nolightsband


post-punk indie pop




---

Cathedral Bells


-from Orlando, FL




-Shoegaze-by-way-of-bedroom-pop artist Cathedral Bells (a.k.a. Matt Messore) formed in 2018. Joined by Griffin Marthe, Miguel Pais, & Jordan Bermudez. "Step into the world of Cathedral Bells. It's a place at once familiar yet new; bright yet dusky; fast-paced yet calming. The captivating fusion of wistful dream-pop and airy shoegaze that Messore puts together here sees to all that, with its kaleidoscopic swirl of propulsive rhythms, shimmering, hazy guitars, warm swathes of synths, and vaporous singing." ~ Line Of Best Fit






Haunt Me


-from Austin, TX




-Romantic music from Texas.






No Lights


-from San Francisco, CA




-There isn't an obvious phonic principle that connects the post-punk, indie pop of No Lights to more than two decades of Bay Area hardcore and metal. Perhaps it's more a family resemblance than anything else, sharing members with KOwloon Walled City (Ian Miller, Dan Sneddon), and a formidable list of past projects that includes Early Graves (Matt O'Brien, Dan Sneddon), Set Your Goals (Israel Branson), and Grace Alley. Like the streets of San Francisco in a Hitchcock movie, there is something familiar here, but never obvious whether it's more beautiful or more troubling than real life. The references don't evoke nostalgia, aren't reverential. And trying to pinpoint specific influences is like trying to tell the difference between the digital and the analog, between tubes and tape and bits and bites: an exercise in feeling rather than precision. No Lights released their double EP, "Stay Awake, June Bug," just before the world shut down in early 2020. 2023 brings their debut full length record, "Dream Eraser."