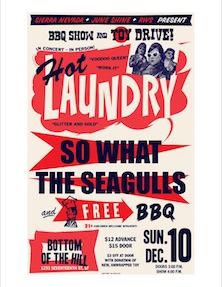 Sunday December 10 2023




3:00PM

doors -- music at 4:00PM


••• 21 AND OVER




$

12

in advance

/ $15

at the door
[$3 off at door with new unwrapped toy]


[includes free barbecue]




Sierra Nevada, Juneshine, RWS

present...




"The Subliminal Sunday BBQ + Toy Drive"


Hot Laundry
hotlaundryband.com
noise-rock
So What
facebook.com/sowhatbandofficial


classic rock, noise rock and post-punk


The Seagulls
theseagullssf.com


art-punk cello-rock grunge




---

Hot Laundry


-from San Francisco, CA


-Hot Laundry is a San Francisco outfit kicking out a fresh new take on our beloved rock n roll.

Lead singer Janette Lopez will help you forget your worries and have you howling at the moon by the end of the night. Backed up by her always lovely backup singers and dancers. Ileath Bridges and Gena Serey are 100% genuine rock n roll. Sending you back to the 1960s bad girl garage band days.

The band is dishing out hi-octane rock n roll with hints of Motown, revved up guitars in the vein of MC5, and a heavy dash of delta boogie. Hot Laundry is serving up working class music. With lyrics reflecting hard work, hard times, love, and dancing all night. -Hot Laundry is rock n roll for your soul.




So What


-from Oakland, CA




-They call their sound "Hard 'gum", as in hard bubblegum- the kind the cuts the roof of your mouth. Oakland group playing Junkshop Glam/Bubblegum/Proto-punk insanity. They are the 4-headed bastard child of The Equals, Jook, and pre-disco Giorgio Moroder.






The Seagulls


-from San Francisco, CA


-The Seagulls are a San Francisco garage rock band fronted by UK songwriter Jon Brooder.

Coming of age in South London in the 70s, Jon was exposed to a diverse sound palette with influences ranging from 50s rock 'n roll, Motown, Rock Steady, British Pub Rock and first wave punk rock. Jon's first foray into the U.S. music scene was in the late 80s,

playing bass with British hip hop / punk band Lightning Strike at storied clubs like CBGBs & The Marquee. This planted a seed that landed Jon in San Francisco, where he and keyboard player Isaac Bonnell formed The Seagulls in 2012.