Tuesday December 12 2023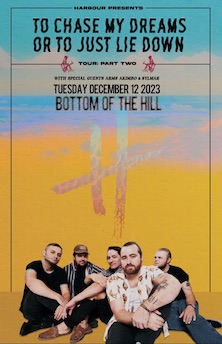 7:30PM

doors -- music at 8:00PM


••• ALL AGES




$

18

in advance

/ $21

at the door




Harbour


harbourtheband.com


Alternative/Indie, Metal


Arms Akimbo
armsakimboband.com


Alternative/Indie, Rock


Sylmar
instagram.com/thesylmarband


post rock; dirty blues; indie rock




---

Harbour


-from Cincinnati, OH


-Since their formation in 2014, HARBOUR has gone from packing rooms in their native Cincinnati to selling out venues across the United States. With three tours already under their belt in 2022, and more cross-country shows on the way, the band has no plans of slowing down anytime soon. Members Ryan Green (vocals/guitar), Jarett Lewis (guitar), Ryan Sulken (drums), Walker Atkinson (bass), and Devon Turner (guitar) have curated an infectious indie pop/rock sound that transfers seamlessly into their live shows.

During their tenure as a group, HARBOUR has delivered an EP and three full length albums. Their latest single, "Swimming In My Head," is the third track to come off of their latest LP, poised for release in early 2023. The song vocalizes the insomnia-fueled thoughts that make a person feel like they're drowning in their own head; the hypotheticals and hindsights that keep one up all night.

The contemplative, often ruminating lyrical matter of HARBOUR's music finds juxtaposition against playful melodies that perfectly encapsulate the boundless energy the band brings to all their performances - each of which begin with an enthusiastic shout to the crowd: "Let's have some fun!"




Arms Akimbo


-from Los Angeles, CA


-What started as a class project in college bloomed into the beautiful mistake that is Arms Akimbo. Few acts transition from "college band" into touring act with a large cult following, but Arms Akimbo has done so, sharing the stage with acts such as Motion City Soundtrack, Walk The Moon, Briston Maroney, The Dangerous Summer, The Spill Canvas, Field Medic, The Mowgli's, and countless others.

Arms Akimbo's music resonates with anyone who struggles to find themselves, love and balance. While their influences vary from pop punk, to indie rock, to folk, the often nostalgic themes in their music are met with an "indie movie soundtrack" feel in nearly every song. This formula was cultivated best in their debut album released last year. This album "East LA ETC" was a labor of love and self-sufficiency. This concept record was fully funded and released independently by the band. It features 14 songs, 14 music videos and a Hollywood-based motif that was inspired by their love for film and tv.

Arms Akimbo continues to release catchy, relatable, harmony heavy hits. Their most recent of these is their new single "whats ur sign?" which features a story of dating, the feeling of fading youth, and a gang vocal section in which the band allowed their most loyal fans to sing on the record. Arms Akimbo is currently in Los Angeles, working day jobs and recording a new EP that will make you dance and cry.




Sylmar


-from Cincinnati, OH


-Five Sweet men with loud guitars, dynamic vocals, loose dance moves, and rollercoaster rhythms; writing memorable guitar rock for the ADD generation.

Jeff Buckley plus Queen divided by Radiohead equals Sylmar.

Like Korean Cuisine, Sylmar is best enjoyed live. Channeling the swagger of Nick Cave and Freddie Mercury, the lyrics of Matt Berninger and the energy of Joe Talbot, lead singer Brian McCullough sweats enough for the entire band.

Guitarists Dan Sutter and Luke Glaser pair John Frusciante and Carl Broemel licks with ambient, shoe-gaze soundscapes to create a wide spectrum of sound. Check out Fittering and Kinks to get a feel for their dynamic.

Rhythm section, Ethan Kimberly and Dom Franco impress progheads, jazz and jam nuts alike, with the chops of At the Drive-In, Thundercat and yes even Phish. Take a ride with post-punk bop Needja.

Sylmar is all over the place. A Variety show. Not for everyone, but maybe just for you. Sure to turn your brown hair Purple.