Friday December 15 2023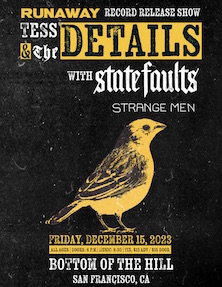 8:00PM

doors -- music at 8:30PM


••• ALL AGES




$

13

in advance

/ $15

at the door


Tess & The Details
tessandthedetails.com


punk rock


State Faults
statefaults.com


screamo post-hardcore shoegaze


Strange Men
wearestrangemen.com


indie punk





---

Tess & The Details


-from San Francisco, CA




-Tess & The Details are a female-fronted punk rock band featuring Tess Stevens on lead vocals/guitar, Gideon Berger on drums, Dustin Galecki on lead guitar, and Lawrence Hood on bass. The Details are signed to Double Helix Records and are currently playing shows to support the release of their debut album "Runaway" out on November 15. Their first single and music video, "Canary" is out now.






State Faults


-from Santa Rosa, CA




-State Faults are an American post-hardcore band formed in Santa Rosa, California in 2010. Noisey included their album "Resonate/Desperate" as one of the records that best captures the last decade of hardcore punk. In 2019, they were listed at number 16 on Kerrang's 50 Best American Hardcore Bands Right Now list.






Strange Men


-from San Francisco, CA


-Róisín Isner was seventeen when she found a burned CD wedged between the crown molding and the ceiling at a punk show at San Francisco's Bottom Of The Hill. A year later she met male-bassist and fellow teenager Ashley Clayton at a birthday party. It would be a few more years before they put together that the demo she'd once found was his. Flash forward to 2023 and they are the sole members of San Francisco indie punk outfit Strange Men — Róisín plays drums, Ashley plays an 8-string guitar/bass he made out of scavenged wood, and they both sing.

The band's new single Hot Nights is seventy-eight seconds of pure seething punk force. Composed in Róisín's head while waiting for the 8 Bayshore bus on a chaotically cold San Francisco evening, the track harks back to a time in her life spent living in New York and elicits an overexposed image of warm east coast summer nights and the transient shadows of youth.

The fever-pitched music video is directed by and features Panda Dulce (aka Kyle Casey Chu), a Sundance Uprise award-winning filmmaker and co-founder of Drag Story Hour. Dulce and Isner are longtime friends and collaborators, and together won Best Short Screenplay at the San Francisco Independent Film Festival earlier this year.

"Hot Nights" will be the inaugural single released on new SF and Seattle based independent label, Big Pink Records.