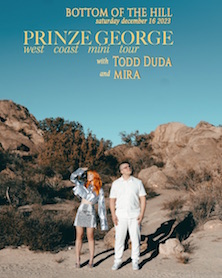 Saturday Dec

ember 16 2023




8:00PM

doors -- music at 8:30PM


••• ALL AGES




$

15

in advance

/ $18

at the door
Prinze George
prinzegeorge.com


indie synthpop


The Undercurrent
theundercurrentmusic.com


indie pop


Todd Duda
toddduda.com


Rock · Electronic · Hip Hop · Folk, World, & Country




---

Prinze George


-from Los Angeles, CA


-Prinze George is a massive captivating collaboration of alternative pop music bands produced by first-rate multidimensional artists who take their fans on a blissful and energetic journey into the music world. The band has diligently constructed and cemented their place in the music landscape in an ocean of carbon-copy producers. They began their journey by creating a forward-thinking electronic to R&B and folk genres, influenced by a wide spectrum ranging from Indie pop to Vapor soul music.

As long-time friends, co-workers, and collaboration of intricate personalities, this band was formed by Kenny Grimm (producersong writer), Naomi Almquist (Vocalist) in 2013. Kenny pilots the band's studio endeavors; having produced and co-written, they dropped their debut album "Illiterate Synth Pop" in 2016. However, Naomi anchors the live appearance that complements Kenny's mindful production. As the trio combines their powers, they come out as a brilliant collaboration of Indie-poptimism and electropop.

Their popular single "Victor" was also selected as a soundtrack for Warner Bros' biggest European release 2014, "Honig Im Kopf," directed by Til Schweiger. Around 2018, Kenny and Naomi were asked to write for the actordirector Til Schweiger's film "Head Full of Honey." Their vision has reverberated with audience members and industry tastemakers alike, with their music hoarding over millions of track streams over their catalog of unique preparations and collaborations. Prinze George's catalog also includes other official collaborations with some of the industry's top edm, hip-hop and pop artists like Carnage, Diplo, G-Eazy, Shaun Frank, and Wiz Khalifa ("Slot Machine," "Letting People Go," and "Wait for Me"). Separated from the studio work, the band members' motivations for their colossal pop music generation have been holding the audience's consideration. With a fusion of electronic tunes and a bit of enthusiastic touch, the band has been keeping their fan following loyal to their music for a long time. In an interview with the Mundane magazine, the artists defined their source of inspiration as; "Cultural institutions, movies, museums, concerts and galleries are always a source of inspiration because they shift your perspective, especially when you hear from people who don't look like you and have had different experiences than you." And a diversion of their music taste, the band describes their inspirations as; "our inspirations diverge when it comes to heavy metal and rock, Kenny loves ACDC and is a bit of a metalhead. Isabelle loves Muse, Beyonce, and Cindy Blackman."




The Undercurrent


-from San Francisco, CA


-The Undercurrent is the San Francisco-based indie duo of Wendy Chuah and Paul Zielinski. The two first met in 2015, and small talk quickly turned into meaningful songwriting. With Wendy as an expressive vocalist and lyricist, and Paul as an experienced producer and multi-instrumentalist, they have been able to play off each other's artistic strengths and sensibilities to create a soulful, indie pop sound with a distinct California vibe.

As their name suggests, despite their often contrary musical tastes, an underlying force allows the duo to meet in the in-between — combining driving beats, layered guitar riffs, memorable melodies, and tying it all together with heartfelt lyrics.

The Undercurrent is joined live on stage by Chris Kelly on drums, Jack Sundquist on bass, and Dave Hilbert on guitar.




Todd Duda


-from Berkeley, CA




-Todd Duda has been playing drums in the bay area in bands like; The Swin' Doors, Habit of Mine, Jacky Paper, Ian Brennan and The California Cowboys. He has open shows for the likes of Merle Haggard, Waylon Jennings, Willie Nelson, Blue Oyster Cult and John Entwistle of The Who; just to name a few. Now, Todd moves from behind the drums, to out front, singing his songs that reflex on society's issues with a passion that comes with caring. Todd believes that music is a way to tell the truth as we search inside our souls for the answers.