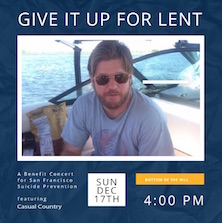 Sunday

December 17 2023




4:00PM

doors -- music at 6:00PM


••• 21 AND OVER




$

25


GIVE IT UP FOR LENT


a benefit concert for San Francisco Suicide Prevention




featuring...


Casual Coalition
casualcoalition.com/
Rock \ Country

Donate at giveitupforlent.com/


---

Casual Coalition


-from the Bay Area


-Casual Coalition is an always rotating musical cast, spearheaded by multi-instrumentalist/singer-songwriter Craig MacArthur & multi-instrumentalist/engineer-producer David Simon-Baker, who lead both the live & studio bands. The band regularly features a slew of talented local Bay Area musicians, which have included Chuck Prophet, The Mother Hips, Stu Allen (Phil Lesh & Friends, Mars Hotel), Dan "LEBO" Lebowitz & Steve Adams (of ALO), Mark Karan (Ratdog, Phil Lesh & Friends), Reed Mathis (Electric Beethoven), Danny Eisenberg (The Mother Hips, Ryan Adams, Counting Crows) & many more!

"Rendering Of A Ghost," Casual Coalition's debut album of original material, was released on October 31st, 2020, during the height of the coronavirus pandemic. The band had been writing & performing the tunes that appear on the album years prior, during their regular performances at the (now closed) legendary, Phil Lesh owned venue, Terrapin Crossroads from 2016-2019.

Throughout the years The Casual Coalition have also been known to bust out performances of some of rock's most seminal albums, including The Band's "Music From Big Pink," Bob Dylan & The Band's double album "The Basement Tapes," & The Rolling Stones opus, "Exile On Main St," which included a full horn section, Neil Young's "On The Beach," and most recently The Beach Boy's "Holland" album, performed with Chuck Prophet under the Big Sur skies and Al Jardine in attendance, giving his nod of approval.

The band also showcases its country chops with "Casual Country." The Casual Coalition country off-shoot performs high-energy outlaw, classic & unexpected country songs guaranteed to get you dancing. Along with performing some of country's greatest songs, the band also explore deeper cuts that are often overlooked by the mainstream but carry the same excellence in songwriting. A few new original country songs have emerged as well, making their way into the sets each night!