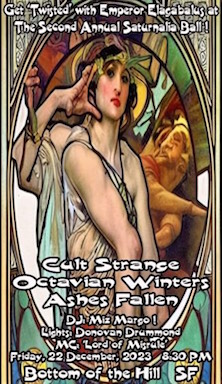 Friday December 22 2023
8:30PM

doors -- music at 9:00PM
•••
21 AND OVER
$
13

in advance

/ $15

at the door
2nd Annual Saturnalia Ball
featuring...
Cult Strange
facebook.com/CultStrange
dark punk deathrock gothic industrial gospel post-punk
Octavian Winters
(
members of
Specimen
,

Thrill Of The Pull
)
octavianwinters.com
Atmospheric Darkwave
Ashes Fallen
facebook.com/ashesfallenmusic
gothic rock post-punk

and

Miz Margo
spinning tunes

With special guest
MC The Lord of Misrule

Light show by
Donovan Drummond
---

Cult Strange


-from Oakland, CA


-Cult Strange is influenced by the Punk/Post Punk/Industrial/Deathrock musics of the 80's. They hammer out an angry, yet danceable set of songs, with lyrics that range from protesting the inhumane practice of locking children in cages, to love songs in honor of Goddesses that demand blood sacrifices.

They will get your feet moving, and your heart pumping!




Octavian Winters


-from San Francisco, CA




-Octavian Winters was born into the ghostly isolation of San Francisco in 2022, during the third winter of the pandemic. Stephan Salit (guitar), Randy Gzebb (drums), Jay Denton (bass) and Ria Aursjoen (vocals, keyboards) together weave their visceral and ethereal sound into a texture all its own – of stories once told but half-remembered, under a dusk of shadows and stars, in an abandoned city under the winter moon.






Ashes Fallen


-from Sacrament, CA




-Modern gothic rock for the end times. Est. 2019.