T
hursday
February 15
2024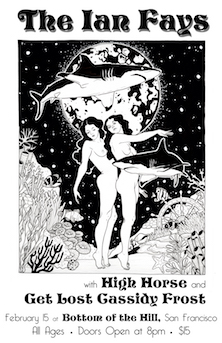 8:00PM

doors -- music at

8:30PM




••• ALL AGES




$15


The Ian Fays
facebook.com/TheIanFays


indie pop


High Horse
instagram.com/high_horse_music


bedroom rock, lounge surf


Get Lost Cassidy Frost


indie pop



---

The Ian Fays


-from San Francisco, CA




-THE IAN FAYS are a Northern Californian indie pop-rock group comprised of identical twin sisters, Lizzie and Sara. The Fays released their first album, The Damon Lessons (Homesleep) in late October of 2003. In the years to follow, the twins toured the US and Europe multiple times after their subsequent releases, Dylan's Lost Days and Jensen's Camera. On Halloween 2013, in celebration of their 10 year anniversary as a band, The Ian Fays released The Most Spectacular Party, and again toured extensively before taking a hiatus to foster a new generation of little Fays. On October 31st, 2023, in celebration of their 20 year anniversary as a band, The Fays released the title-track single from their upcoming album, Viola. The song offers a sneak peek of what is to come on the record, with nods to the color purple and love, and musical layerings to fit the mood. The second single from the album is entitled Olive Says and will be released on December 1st via WWNBB.






High Horse


-from San Francisco, CA




-High Horse is a San Francisco band playing surf adjacent, melodic post punk jangles.






Get Lost Cassidy Frost


-from the Bay Area, CA


-Get Lost Cassidy Frost is the solo project of Cassidy Frost (who could have guessed!), former frontperson of Portland slow-core darlings, bed. True to form, Frost returns with a mild lisp, sugary pop hooks, and a dazed, bleary-eyed disillusionment that NPR's Robin Hilton once called "gloriously gritty". It should come as no surprise to listeners that this project was recorded in Frost's bedroom following a return to their natal San Francisco.

In their forthcoming debut single, (Out Feb 15th via Big Pink Recs) Frost introduces their brand of tactile, bedroom-y self-production, lush vocal arrangements, and playfully morbid lyricism. With rhythmic and visceral verses giving way to choruses honoring the dignity of perseverance, the single serves baffled resignation with a smile. Throughout, Frost's canny use of sampling punctuates like a wink between malcontents.

Irreverent, darkly witty, and radically vulnerable, GLCF revives early 00s geek pop nihilism with an injection of joy, and strips away all self-conscious artifice. With their lyrical and tonal specificity, Get Lost emerges as a welcome documentarian of queer adulthood.