Thursday March 28 2024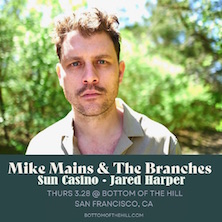 7:30PM

doors -- music at

8:00PM




••• ALL AGES




$

15

in advance

/ $18

at the door


Mike Mains & The Branches
mikemainsmusic.com


Pop Rock


Sun Casino
suncasinoband.com


indie rock


Jared Harper
jaredharpermusic.com


alt indie rock




---

Mike Mains & The Branches


-from Michigan


-We recollect memories like paintings on the hall of a childhood home. Certain colors and details stick out to us, while others lose their luster over time. Nevertheless, we appreciate what we do remember as it indelibly shaped our present and eventual future. As vocalist, songwriter, producer, and namesake of Mike Mains & The Branches, Mike Mains thinks aloud in his songs. He ponders events and experiences as well as their ensuing effects on his identity, telling intimate stories through artful pop rock. After generating millions of streams and consistently captivating audiences on tour, the band recognize, accept, and absorb these formative mementos on their 2023 fourth full-length offering, Memory Unfixed [Tooth & Nail Records].

"There are two ways of looking at it," he notes. "I can be resentful, bitter, and angry about a lot of what happened to me growing up, or I could be grateful that I have a life filled with memories. Some of them are broken, and some of them are amazing. I'm fucking here, man. I'm breathing, I'm existing, and I get to make art and share it. On top of that, I have an incredible wife who loves and supports me. If we allow ourselves to become friends with our own unfixed memories, there are lessons we can learn and carry on. I went through a painful period and came out on the other side of it as a better person with a beautiful portrait of that season in the form of the album."

Mike Mains & The Branches have always bottled complex emotions and relatable stories within hummable homegrown anthems. They have organically progressed over the course of Home [2012], Calm Down, Everything Is Fine [2014], and When We Were In Love [2019]. Billboard hailed the "buoyant pop" of the latter, while Atwood Magazine praised its "upbeat, energetic, feelgood pop-rock." Among many standouts, "Briggs" generated north of 4.8 million Spotify streams as "Breathing Underwater" and "Live Forever" each surpassed the 1 million-mark. After trading his native Michigan for Nashville, Mike underwent another era of transformation. Stuck at home mid-Pandemic, he retreated inward and began to understand his past and, ultimately, himself a bit more.

"Once COVID hit, I finally had the opportunity to allow some things to start boiling over," he elaborates. "I got serious about therapy, my mental health, and my well-being. I acknowledged wounds that had been on the backburner for my entire life. I've been on my own since I was 16, and I come from a family of physical and mental abuse. By living alone and crashing on couches over the years, I've cobbled together a wonderful surrogate family. Growing up, my dad was like, 'You'll never make it'. Part of me was pleased to find success, move to Nashville, buy a home, and support myself and my wife off rock 'n' roll. Nevertheless, all of this pain came up. So, these songs are little vignettes and snapshots of not only the relationship between my wife and I but what was happening in the world with George Floyd and America's heartbreaking response."

To capture these emotions, he reteamed with producer Nathan Horst, but Mike co-produced for the first time. "It was per his suggestion," adds Mike. "It gave me a lot of courage and confidence to continue taking the reins when it came to my music."

Now, the band introduce Memory Unfixed with the dual singles "We're Alive" and "Always My Forever." On the former, he lyrically sets the scene, "Those streets where we used to ride our bikes haunt me, they've been keeping me up at night." Meanwhile, a buoyant beat and bright guitars underline an unexpectedly triumphant and chantable chorus, "Caught up in these memories, maybe it was more than just a dream, we're alive."

"I had some painful things happen to me in my teenage years," he sighs. "The song goes back to the pain of adolescence, but the explosive joy as well."

On "Always My Forever," softly strummed acoustic guitar brushes up against delicate piano as he croons a sweet homage to his wife.

"It celebrates the way I feel about her, but it's universal enough you can see yourself inside of it," he continues. "It shows a lot of gratitude for Shannon."

Then, there's the upbeat "Talk To Me." A shuffling riff locks into a head-nodding beat. He threads together relatable, yet obtuse imagery of "characters going through a hard time and trying to navigate life together."

Co-written with Jason Singer of Michigander and Shannon, "Lonely" channels Pandemic-era isolation into a plea for connection.

"It encapsulates the way the three of us felt during COVID," he notes. "We were lonely and craved connection."

The opener "Lost Boys" materialized as the first composition penned for the record. The vocals teem with raw emotion over ethereal echoes of guitar, glowing synths, and a hypnotic backbeat.

"Anybody who grew up in America is familiar with the story of Moses," he says. "He does what he's supposed to do and literally dies at the edge of the Promised Land. It's a powerful metaphor and warning for me. I don't want to die at the edge of the Promised Land. I don't want to let my fears, regrets, or mistakes hinder me from entering my own version of the Promised Land. I want to be a loving husband and, someday, father. I want to write songs that can potentially help people."

In the end, Mike Mains will continue to do just that.

"I'm just a husband, a wounded healer, and a grateful storyteller," he leaves off. "If these songs make you feel less alone, I did my job.




Sun Casino


-from San Francisco, CA




-A by-product of quarantine, Sun Casino was formed by 3 SF transplants hailing from Atlanta, Nashville and SLO. The trio has taken the city by storm with a slew of packed Friday and Saturday night sets at local venues. Sun Casino's catchy lyrics and jangly guitar hooks have resonated deeply with the local SF indie rock scene. Just 3 fellas playing their lil hearts out.






Jared Harper


-from San Francisco, CA


-Californian alt-indie singer-songwriter and guitarist Jared Harper released his first solo single, Running After You, in 2018. After a successful debut, he released his single, Addicted to You, which preceded the release of his 2018 EP, If I'm Being Honest.

His latest singles, If I Can't Have You (2020), About You (2021), All For Me (2021), continue to consistently garner international acclaim and his most recent hit Lonely (2021) is a dynamic power driven belter and a change of pace from his other songs. He has garnered over of 1,000,000 streams across Youtube and Spotify alone. Through his signature sound that transpires from the influence of The Strokes, Arctic Monkeys, Oasis, The Beatles, and John Mayer, Jared Harper has been a contestant on The Voice US (season 18), performed in London, San Francisco and LA, and kept music fans entertained during lockdown with live stream original performances and energetic covers of "Dynamite" by BTS and "Let's Get It On" by Marvin Gaye.

Jared Harper's music has featured on Soho Radio, Boogaloo Radio, Lonely Oak Radio, Somer Valley Radio, Ko Radio, Islington Radio and Musomuso. It has been written up by A&R Factory, LA Wire, Music Industry Weekly, Chalkpit Records, AAA Backstage, UNXIGNED, Unrecorded, The Other Side Reviews, Indie Top 39, The Bops Collective, Edgar Allan Poets, Talk About Pop Music, Indie Music Center, It's All Indie, YMX, We Write About Music and FV Music Blog.