Wednesday April 3 2024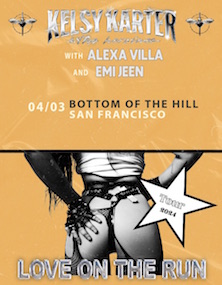 7:30PM

doors -- music at

8:00PM




••• ALL AGES




$

17

in advance

/ $20

at the door


Kelsy Karter & The Heroines
kelsykarterandtheheroines.com


Rock'n'roll


TBA


...


Emi Jeen
emijeen.com


Electropop Rock




---

Kelsy Karter & The Heroines


-from Los Angeles, CA




-Kelsy's debut album Missing Person was critically acclaimed and a thrilling introduction to a truly singular musical mind. Like all the most electrifying artists, the New Zealand-born singer/songwriter invited the audience into a beautifully strange world of her own making, a fantasia that's equal parts rock-and-roll grit and wildly theatrical grandeur. Fueled by the mesmerizing vocal work first displayed on her breakthrough single "Harry"—a 2019 track that went viral after Karter turned up with a fake tattoo of Harry Styles blazoned across her face—Missing Person arrives as a stunning showcase for her intricate storytelling and uncompromising outlook on life, love, and self-liberation. Despite the defiant spirit that shines through nearly every song on Missing Person, the album took shape from a period of tremendous pain and self-doubt for Karter, a time that included the death of a loved one and a devastating breakup. "I was so depressed and broke, and probably at the lowest point in my whole life," says Karter. "For a while I sort of lost myself, which is why the album's called Missing Person. But through the process of making the record I found myself as an artist and an individual—I stopped giving a fuck about what anyone else thinks, and finally felt completely okay with who I am." Working in the UK and in L.A. with producers like Zakk Cervini (Machine Gun Kelly, Poppy) and Chris Greatti (YUNGBLUD, blink-182), Karter set that transformation to a guitar-drenched sound steeped in elements of punk and Britpop and classic glam-rock, giving way to a sonic aesthetic both undeniably timeless and entirely of-the-moment.






TBA


-




-






Emi Jeen


-from Montreal, QC




-Emi Jeen is a Canadian-based singer-songwriter who has gained attention in the alt-pop scene with her solo career. She is known for her emotive storytelling and theatrical stage presence, as well as the exuberance of her dark pop style and aesthetic. Jeen has released two successful EPs, "The Other Side" and "Why So Serious". She is influenced by a wide range of musical styles and has a background in opera, giving her a unique vocal dexterity. She is set to release her third EP, "Terrible Perfect Timing", in September 2023, and as promised, a pop-rock 90s-inspired production, powerful voices, and vulnerability.