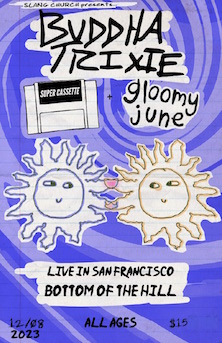 Friday December 8 2023
8:30PM

doors -- music at
9:00PM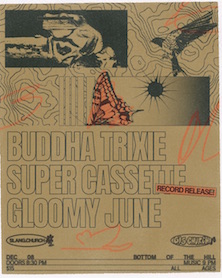 •••
ALL AGES
$
15
Slang Church
presents...
Buddha Trixie
instagram.com/buddhatrixie
Indie/Psychedelic Rock
Super Cassette
(Record release)
supercassettemusic.com
jangly garage pop
gloomy june
gloomyjune.com
moody pop
---

Buddha Trixie


-from San Diego, CA




-Products of Park Village Elementary School, guitarist Andrew Harris, singer/drummer Daniel Cole, and bassist Dennis Moon grew up side by side, witnessing all of each other's awkward years. They harnessed that unbreakable bond into a sick cover of "Gravity" by John Mayer that every parent at their middle school graduation fucked with hard. A bunch of years later, and Kenzo Mann joins the fold, bringing hot synths and hot guitar. They stop playing "Gravity" and write their own songs. Their old fanbase of parents say they've changed. It's okay. The kids love the new songs about whatever Daniel's deal is. Every song they record soon becomes a #1 single. They exclusively tour the planet Earth, citing the crowds on Mars being "wack". Although now drowned in money and fame, the four haven't forgotten their roots -- they humbly sleep in the same bed like the grandparents from Charlie & The Chocolate Factory.






Super Cassette


-from Oakland, CA


-Somewhere between a solo bedroom-pop act and an indie rock quartet, Super Cassette has specialized in producing driving, insidiously catchy garage pop since 2016.

Starting as a solo recording project called "Maximillian", Super Cassette quickly blossomed into a proper rock band. Max Gerlock put a band together to play live, and the incredible chemistry they discovered (along with the cease-and-desist letter that forced them to change their name) made it apparent that Super Cassette would function better as a band than as a solo project.

Max and his twin brother Nick remain the creative heart of the band. In the days of quarantine, Super Cassette shifted back toward solo creation in the studio, but as the pandemic winds down, Super Cassette has started playing as a full band again with a stronger on-stage energy than ever.

After their song "Sober" unexpectedly blew up in Latin America and their recent bop "Be Gay, Do Drugs, Hail Satan" made waves across the internet, Super Cassette continues to churn out indie rock bangers with one eye still focused on world domination.




gloomy june


-from San Francisco, CA


-gloomy june is a California indie pop band made up of singer Alexi Rose Belchere (she/her), guitarist Devin Nelson (he/they), bassist Jack Sundquist (he/him), and drummer Ash Hyatt (they/them). Named for the cold fog that surrounds their hometown of San Francisco at the beginning of the Summer, gloomy june is the soundtrack of a beach party tinged with melancholy.

In an era where fear and uncertainty are our closest companions, gloomy june is there to tell you uncertainty can be okay. gloomy june songs are pop refracted through an anxious lens: sometimes anthemic, often queer, and always a little tragic. Written through late 2020 and early 2021, when the global pandemic made going to house parties and shows seem like a past life, their recent EP "Popsick" explores social woes with a near-nostalgic tone. If you've ever felt "othered", or if the world has made you more anxious than you're used to, come find your friends at a gloomy june show.