Saturday
November 19
2016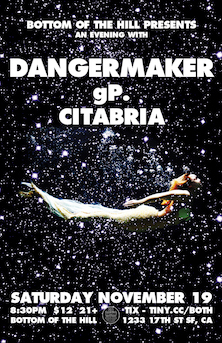 8:30PM

doors -- music at 9:00PM

•••

21 AND OVER




$

12


Dangermaker
www.facebook.com/dangermaker


alternative dark indie pop rock


Ghost Parade
ghostparade.net


alternat


Citabria
citabria.bandcamp.com/


alternative electronic progressive synth rock

.













July Talk

was previously scheduled for 11/19 but they postponed their performance until January 26th.

Saturday November 19 2016

8:30PM

doors -- music at 9:00PM
••• ALL AGES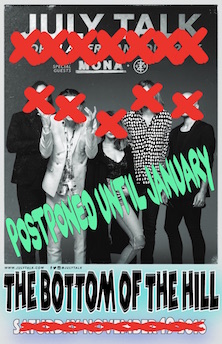 $

12

in advance

/ $14

at the door
July Talk
blues/alternative
Mona
Alternative Indie Rock
TBA
...
----

Zipper Club

is off the bill
---

Dangermaker
Adam, Neko, Dave, Carlos
-from San Francisco, CA
-San Francisco's champions of overcast pop-heavy rock n' roll, Dangermaker, have a very solid track record, which their forthcoming Light the Dark III succeeds beyond expectations in furthering. Picking up where they left off with Light the Dark I & II, this collection is defined by classic songwriting, charmingly familiar hooks and a particular style of raw, warm production that flows throughout courtesy of producer Aaron Hellam. The band had an exciting year, including recent festival appearances at Bottlerock Napa and Live 105's BFD Music Festivals – with headliners like Florence & The Machine, Atlas Genius, Grouplove, Modest Mouse, Cold War Kids and Best Coast – continuing on with US tour dates. Light The Dark III is scheduled for release fall 2016.
After lead singer Adam Brookes' father suffered a fatal accident and suddenly passed away during the first week of tracking their debut album Black Dream, Adam, Carlos, Dave & Neko plunged into their art with urgency and a newfound lust for life, eventually emerging with a euphoric sound that defines their new releases on Breakup Records. Channeling a signature brand of dark indie pop ala early Killers, Phoenix, and White Lies has propelled the band forward to recent showcases at SXSW, CMJ and beyond.






Ghost Parade
Justin Bonifacio- Vocals & Guitar, George Woods- Guitar & Vocals, Ben Everett- Bass
-from San Francisco, CA
-gP. (formerly ghost parade) is a heavy Oakland trip pop outfit that formed in 2013. Their debut EP Foundations was a progressive heavy/ambient collection of songs that put them on Westcoast tours through out the next few years solidifying their live performance and changing their sound. Now 2016, the band is re-branding as gP. the heavy trip pop group with their newest single HUSTLE and will be premiering their new album "Destroy, so as to build" in 2017 with 5 more music video singles and lots more touring throughout greater areas of the US.

.





Citabria
Leopoldo Larsen - Vocals/Guitars
Nate Dias - Guitars
Edgar Fernandez - Bass
Keviano Azevedo - Drums/ Percussion
-from San Jose, CA
-Citabria (si - ta - bree - ah) is an alternative rock band based out of San Jose, California, formed in 2008. The band's debut EP, The Stereo Guillotine, was released in 2010 and immediately gained recognition locally, as well as overseas. The Stereo Guillotine was sold on several of Germany's top online music distribution sites, which made it possible for the band to perform in Portugal for Ašor Talentos, their version of American Idol. The following year, Citabria won a gold medal for the Your Music Olympicks Battle of the Bands, and opened for AWOLNATION at the San Diego IndieFest and The Limousines at the Left Coast Live music festival.

Citabria raised a $6,000 Kickstarter campaign in 2013 to fund the recording of their full-length album, Exit Reality. The LP was recorded at JingleTown Recording (owned by Green Day) and released in early 2015. "The Animal" off Exit Reality garnered regular radio airplay on Live 105 (KITS 105.3 FM), showing off the band's more electronic-infused sound, and landed the band an opening slot for P.O.D. Citabria launched their newest single "Take My Heart" in early 2016 to rave reviews, with more single releases coming soon.