Tuesday
December 6
2016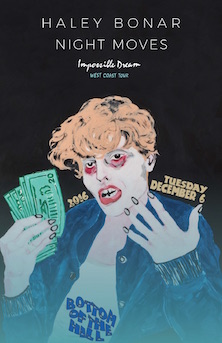 8:30PM

doors -- music at 9:00PM

•••

21 AND OVER




$

12

in advance

/ $14

at the door
Night Moves
www.nightmovesmpls.com/


psych-country


Haley Bonar
www.haleybonar.com/


Folk - Slowcore - Indie rock

p


Heart Of The Whale
www.heartofthewhale.com/


Rock n Roll
---

Night Moves
Micky Alfano, John Pelant, Jared Isabella
-from Minneapolis, MN
Haley Bonar
-from Saint Paul
-"(Night Moves) plays countrified rock with a freak-folk vocal style, and their organ and string arrangements spin their songs into mini-epics." -New Yorker

"A warm and intimate, wonderfully expansive gem" -SPIN (Album Premiere)

"Night Moves do the cosmic country, Neil Young-in-space thing that the Lips did so beautifully on the Soft Bulletin (and Mercury Rev did on Deserter's Songs)." -- Guardian [UK]

"Hook-laden psychedelic rock, lush instrumentation and richly textured production" - NPR Music

"Colored Emotions demands to be listened to in its entirety: It's full of moving parts and the type of effortless transitions between songs that makes the album much more than the sum of its parts." - Consequence of Sound





Haley Bonar
Haley Bonar
-from Saint Paul, MN
-*Everybody wants a story. Something to sell. I'm here to tell you that
there isn't one with this album, at least in the traditional sense, but ten.
Perhaps each of them contain more stories, sitting inside each other like nesting dolls. I could sit here and tell you that some of the songs are about growing up in the Black Hills. Some of the songs are about my
parents. Some of the songs are about sexuality. Some of the songs are about loss of youth, teenage parenthood, the lines of social disorder for women, or the terror of jealousy and suspicion. But what I write is borne of my own set of memories and ideas, and once they are released into the world,
they do not belong to me anymore. The interpretation is all yours, therefore these stories are yours. What I can tell you is this: My name is Haley Bonar (rhymes with "honor"). I'm 33 years old, a Taurus, and I live in Saint Paul, MN with my daughter Clementine. Impossible Dream is my 7thfull length studio album. I also sing in a band called Gramma's Boyfriend.* *-Haley Bonar*



Heart Of The Whale
Jonathan Nicholson - Vocals & Guitar, Joe Wilinski - Drums,
Jon Turner - Bass, Keys, & Vocals, Sven Forner - Guitar
-from San Francisco, CA
-Heart of the Whale is a San Francisco rock'n roll band with something very dark up their sleeves. They blend psychedelic gospel, fuzzed out blues and heady distortion. Raucous, beautiful and sometimes harrowing but they do it all with a sideways smile and a tip of the hat.

Their songs are stories heard from across a campfire or lived through a young boy in a small North Carolina church. Their self titled debut album was written and recorded between Fall 2012 & Spring 2014, and released in April of 2015.