Sunday January 26 2020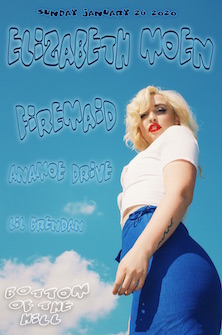 7:30PM

doors -- music at 8:00PM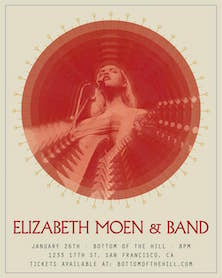 ••• 21 AND OVER




$12


Elizabeth Moen
elizabethmoen.com/


Folk-rock


Firemaid


www.facebook.com/FiremaidMusic/


Indie Pop/Folk


Anamoe Drive


www.facebook.com/anamoedrive/


from Dublin, Ireland; U.S. Debut




Irish folk


&) Lil Brendan


aka

Caoi de Barra of Wyvern Lingo




a mix of hip hop, RNB, disco, pop, funk and soul



---

Elizabeth Moen
Elizabeth Moen- vocals, guitar
David Hurlin- drums
Dan Padley- guitar
Gemma Cohen- bass, vocals
-from Iowa City, IA
-With a sultry and intoxicating voice, Elizabeth Moen lures you in. Paired with introspective lyrics that echo both bitter and sweet, her music will captivate you then stay with you. "Moen is one of those rare artists whose voice, from the first moment you hear it, consumes your entire being, doing away with all previous thoughts and concerns, and leaving you short of breath (The Culture Trip)."

On her sophomore LP A Million Miles Away, Moen tackles the complexities that coincide with the basic need for growth. At points lighthearted and somber, and even wry, her lyrics mirror what it's like to be alive: to wake up each day and attempt to balance the myriad of emotions that go along with being human. In "Triple Scoop" this all perfectly comes together in relation to the age-old problem of sweet, melting ice cream meeting concrete ("Triple scoop sorbet splattered on the sidewalk / Bit of cherry pie hanging off your lip / Why wipe it away, it's just you and me talking? You're the cherry on top of my double chocolate chip"). Throughout the album's eight songs, you are reminded that it's possible (and ok!) to feel broken and carefree, nostalgic and hopeful, to be utterly content but still have an incredible sense of longing.

Hailing from the small town of Vinton, Iowa located in the middle of the heartland, Moen taught herself how to play guitar as a teenager. It was peer pressure that caused her to write her first song and shortly thereafter, she immersed herself in the writing community of Iowa City while finishing up her studies in French and Spanish at the University of Iowa. Inspired by a mix of modern artists such as Alabama Shakes, Sharon Van Etten, Angel Olsen and Lake Street Dive (who she has supported), and older influences like Stevie Nicks and Joni Mitchell, Moen isn't locked into a single style.

On A Million Miles Away her songs shift fluidly; Opener "Red" and "Best I Can Do" portray the soulful side of her voice while "Triple Scoop" and "Matilda" recall folky, summer pop. "Don't Say I" and "Bad to Myself" pull in heavier tones, augmented by her 1968 Gibson ES-340, while the final tracks, "Time is a Shitty Friend" and "Planetarium," act as closing arguments for the album. The two tracks encapsulate aspects of each preceding track, at times both heavy and soft - equal parts whimsy ("Cuz I'm high and I'm reading about stars and shit") and sadness ("...and it's feeding / My thoughts about us together in some other universe"), while the echo of a longing to be "a million miles away" plays out.

A Million Miles Away follows Moen's 2016 (self-titled EP) and 2017 (That's All I Wanted LP) releases that took her on tour throughout the Midwest and Western United States alongside Europe. During this time she has acted as direct support for Lake Street Dive, Margaret Glaspy, Lucy Dacus, Becca Mancari, Houndmouth, William Elliott Whitmore (featured on her 2017 LP), Lissie, Buck Meek and has had her music placed in films including the Netflix original movie "Candy Jar." In support of her new album, Moen embarked on her first national headlining tour with dates in major cities including Chicago, New York City, Los Angeles, San Francisco, Portland, Denver, and Nashville.

Released September 1, Moen's new album is a testament to its theme: growth. A Million Miles Away is a moving, passionate exploration of internal and external change. In Moen's own words, "the base of the eight tracks revolves around the idea that there needs to be and will be growth. That can be for someone you love, for yourself, for a new relationship, or for closure from an old one. I've grown a lot writing these. I hope that these songs will make you feel that way or another too."





Firemaid
Kaila Baće
-from Bay Area, CA
-Firemaid is the solo project from Kaila Baće (Big Tree, Bows). Based in the East Bay of Northern California, Firemaid writes anthems for empaths, to be performed in stadiums and living rooms alike.
categories





Anamoe Drive


-from Dublin, Ireland




-Waxing mid-fi






Lil Brendan
-from Dublin, Ireland
-Lil Brendan (aka Caoi de Barra of Wyvern Lingo) delivers a diverse mix of hip hop, RNB, disco, pop, funk and soul.
Her background in diverse musical projects as a singer, drummer, and producer has gifted her a seasoned ear for blending melodic rhythms and hypnotic grooves to create an infectiously feel-good atmosphere.