Wednesday January 29 2020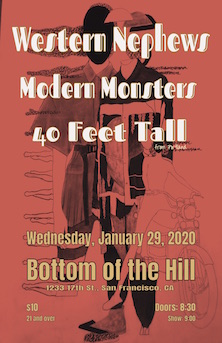 8:30PM

doors -- music at 9:00PM


•••

21 AND OVER




$

10


Western Nephews
www.facebook.com/westernnephewssf


garage indie punk rock


Modern Monsters
www.modernmonstersmusic.com/


Hard-hitting alt rock with elements of hip-hop, psychedelica, punk, and reggae


Forty Feet Tall


from Portland


www.fortyfeettall.com/


punk, hard rock




---

Western Nephews
Evan Meagher: Vocals, Harmonica
Kevin Phillips: Guitar
Brian Escobar: Guitar, Vocals
Alan Hord: Bass
John McCain: Drums, Vocals
-from San Francisco, CA
-Rock is not dead. Western Nephews is a 5-piece rock band from San Francisco that draws from the genre's dirty-dark history to blend current themes of distopia and drug-fueled levity into springboard nostalgic rock songs. Comprised of singer Evan Meagher, guitarists Brian Escobar and Kevin Phillips, bass player Spencer Heaphy and drummer John McCain, Western Nephews brings you swampy gutter rock with some not-so-hidden prog tendencies and smoldering guitars that pair nicely with your favorite brown liquor and beer.






Modern Monsters
Brody Bass: Bass
Keenan Tuohy: Drums
Rich Wells: Lead Guitar
Wyatt Lennon: Guitars
-from San Rafael, CA
- Modern Monsters were formed in the Bay Area in 2017. They are a hard-hitting, socially-conscious rock and roll band, primarily inspired by alternative and experimental rock, hip-hop, soul, and grunge. Featured in the Bay Area's Pacific Sun Bay Bridged, KRCB Radio, Mutiny Radio, KWMR's "Rock of Ages," Indie Music Press, and Rockstardreams.com.
Their debut EP as a five-piece will be released in 2020.





Forty Feet Tall
vocals / COLE GANN
guitar / JACK SEHRES + COLE GANN
drums / Ian Kelley
bass / BRETT MARQUETTE
-from Portland, OR
-Forty Feet Tall in its newest iteration has been gigging for a little over a year in Portland and in that time has truly created a sound that is unique; a punk, hard rock abandon that gives off a crazed yet composed energy.