Friday January 31 2020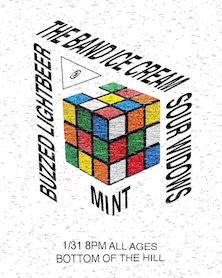 8:00PM

doors -- music at 8:30PM


••• ALL AGES




$12


MINT


mintreed.bandcamp.com/


surf rock dream pop


The Band Ice Cream


www.thebandicecream.com/home


garage hyphy rock disco power pop


Sour Widows
www.facebook.com/sourwidows/


indie bedroom rock


Buzzed Lightbeer
www.facebook.com/buzzedlightbeerband/


garage punk
---

MINT
Tyler - Guitar/Vox
Hayden - Guitar/Vox
Danny - Bass
Armon - Drums
-from San Francisco, CA


-Mint is a local San Francisco band that has been ripping it up for a few years with their fusion of shoe-gaze, surf punk, and post rock. They will make you dance, mosh, and soar into another dimension. Their music exhibits their ability to create a calming reverb soaked environment that is simultaneously pulsing forward. This push and pull is why they always sound so fresh (haha their name is Mint) – Douglas Fern






The Band Ice Cream
Joseph Sample (guitar and vocals), Kevin Fielding (guitar),
Raphael di Donato (bass), Dylan Murray (drums)
-from San Francisco, CA


-Dairy Rock/Melting Pop. Give me ice cream, or give me death. The Band Ice Cream from San Francisco, CA plays relatable garage rock songs for the damned. They come to you in frequencies and resonate with your loins. Your children will like them on summer nights. Your mother will love them on sale at Costco. Their latest album, Classically Trained, is a melting pot of dirty, fuzzy, slightly stupid rock n' roll that producer Bruce Botnick put his own personal flourishes on. Singles like "Wild", "Surfer Girl" and "Sick Over U" have landed them opening shows and festivals for the likes of Hinds, Sunflower Bean, Black Pistol Fire, Night Beats, Tijuana Panthers and more.






Sour Widows
Susanna Thomson
Maia Sinaiko
Max Edelman
-from Bay Area, CA


-Sour Widows are a bedroom rock band from the Bay Area comprised of longtime friends Maia Sinaiko, Susanna Thomson, and Max Edelman. Songs marked by driving harmonies address themes of relationship and reflection; layers of warmth, depth, and grit surface and fade in their two-guitar dynamic. Through progressions that shift from subtle to biting, Sour Widows expose tender moments with an edge.






Buzzed Lightbeer
gabi, kendall, justine
-from San Francisco, CA
-3-piece sf fem garage garbage.
"Now this is "classic punk"...but with a 21st Century vibe! This record is angsty, fidgety and funny: everything a great punk EP should be rolled into one."