Saturday February 15 2020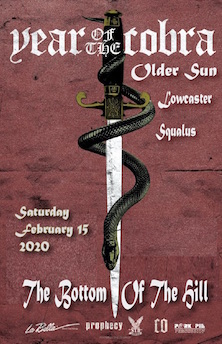 8:00PM

doors -- music at 8:30PM


••• 21 AND OVER




$

12

in advance

/ $14

at the door


Year Of The Cobra
www.yearofthecobra.com/


heavy psych metal stoner rock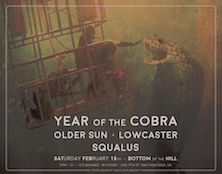 Older Sun
oldersun.com/


Psych, Rock & Roll, Blues, Heavy


Lowcaster
www.facebook.com/lowcastermusic/


doom metal


Squalus
www.facebook.com/squalus.band/


metal



---

Year Of The Cobra


-from Seattle, WA


-Formed in 2015, Year of the Cobra became a rapidly ascending, radiant star in the horizon of the doom/stonerscene for a reason. The powerhouse duo, consisting of Amy Tung Barrysmith (vocals/ bass) and Jon Barrysmith (drums), use their limitation in instrumentation to their advantage. Leaving space for every instrument to breathe and to shine, they create a vast, larger than life sound aesthetic. Their songs drift relentlessly from classic epic doom laments into oppressive heavy riff architecture, with traces of hardcore punk and transfiguring psychedelia.

In 2016, just a year and one EP into their career, Year of the Cobra released their full-length debut, ...in the Shadows Below. Using the natural, three-dimensional and massively heavy production of Billy Anderson (Neurosis, Sleep) they present themselves as an unbelievably mature and confident band who knows exactly what they want. Following their sophomore EP Burn Your Dead, they had successful tours of Europe and the US, playing a number of well-known festivals along the way, including Psycho Las Vegas, Freak Valley Festival and Prophecy Festival in Germany. The band just released their sophomore full-length Ash and Dust on Prophecy Productions (November 2019), which was produced by the legendary Jack Endino (Nirvana, Tad, Soundgarden). The album has already received high acclaim and the band will hit the road hard again in 2020.





Older Sun
Kelsey Guntharp, Vocals
Chris Mulhauser, Guitar
Mike Baptista, Guitar
Bryan Coons, Bass
Pat Crawford, Drums
-from San Francisco, CA
-Formed in San Francisco in 2014 Older Sun creates heavy psychedelic blues rock with a nod to the James Gang, Mountain, Grand Funk Railroad, and ZZ Top. Classic rock riffs buoyed by a muscular rhythm section that rides alongside genuinely soulful, bluesy vocals.
Quickly gaining local attention with a string of Bay Area shows, the band has shared the stage with Earthless, Hot Lunch, Mondo Drag, Pins Of Light, Joy, Carlton Melton, Wild Eyes, Slow Season, Banquet, and many others. 2015 saw the band on three different vinyl only releases. Their debut 7 inch titled "Bad Man", on Valley King Records featured two ripping original songs. The band was featured on Vol.4 of the "Sweet Times" compilation series on Who Can You Trust? Records out of Germany. Their most recent release with Valley King Records is a split 7 inch with Swedish rockers Spiders (fresh off a US tour with Graveyard).
A 5 song self titled 12 inch EP was released in the summer of 2018 on San Francisco label Anchorite Recordings. The sessions were recorded and mixed at El Studio in San Francisco with Phil Manley (Trans Am, The Fucking Champs, Life Coach) at the controls. The cover artwork is an original, eye popping, mind-bending piece by rock poster icon Alan Forbes (Melvins, Black Crowes, Faith No More, Queens Of The Stone Age, CRB, and many others).
Older Sun has been described as "a band out of time, that may be 'retro rock' now, but if it was 1975, these guys would be ruling the arenas, and playing and partying with with the best of them." – Aquarius Records




Lowcaster
Jason Bridges - Guitar / Vocals
Marc Brandi - Guitar / Vocals
Dean LaVoie - Drums
Dave Silva - Bass
-from San Francisco, CA
-"Behold, as LOWCASTER takes you on an intrepid ride through the heavy metal ages. Wild and flamboyant, 'Flames Arise' embraces an infinite love for old school heavy and crying guitars. Go deeper into the album, and you'll get instantly hooked on its perfect blend of spine-shivering ballads and epic anthems. In between hulkean blows, ghostly guest vocals from BRUME's Susie McMullan brilliantly add to the overall feeling of infinity and greatness of 'Flames Arise'. The Bay Area foursome proves to be worthy of the greatest metal acts, crafting a picturesque brand of heavy that is thrilling, legendary and fiercely rock'n'roll all at once!"
- Ever Metal

Lowcaster is a San Francisco metal band combining classic riffs with progressive landscapes. Their first release, 2017's The Vapor Sea, established a solid foundation of dueling guitar wizardry, thrashy breaks, and atmospheric heaviness. Now with their sophomore release "Flames Arise", Lowcaster continues to branch out incorporating long form songwriting with concepts of metaphysics, identity, and folklore.




Squalus
Aaron John Gregory - bass, vocals.
Zack Farwell - drums. Peter Benchley - lyrics.
Andrew Southard - keys, samples
Bryan Beeson - bass
-from Pacifica, CA
-Northern California's, SQUALUS, is an enormous, lurking beast; an all consuming monster of dueling, distorted, stalking down-tuned bass guitars, saturating synthesizers, pianos that creak like an old pier, drums that will punch through any hull, and desperate, salty, apricot brandy soaked vocals.
Their debut album, The Great Fish, retells one of the greatest tales of Man-versus-Sea.

Featuring four original members of renown progressive sludge rock band, GIANT SQUID.