Friday February 21 2020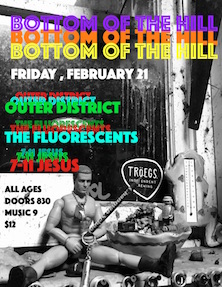 8:30PM

doors -- music at 9:00PM


••• ALL AGES




$12


Outer District


www.facebook.com/outerdistrict/


punk alt-country


The Fluorescents


www.facebook.com/TheFluorescentsSF/


indie Rock


7-11 Jesus
711jesus.faith/


garage punk slusheerock




---

Outer District
Matt Caracciolo - vocals, acoustic guitar
Gaurav Bhandari - electric guitar
Charles Pickford - electric guitar
-from San Francisco, CA


-Outer District is a post-garbage alternative dump rock band based in San Francisco, CA. The band's music is a visualization of different points of interest in the Bay Area, including Emergency Beach and Dump City. They released their first EP, "Scenes From Emergency Beach" in 2019.






The Fluorescents
Jared- Guitar & Vocals
Spencer- Bass
James- Drums
Stef- Guitar & Vocals
-from San Francisco, CA
-From the deep depths of an obscure Craigslist post in 2017, the luminous group called The Fluorescents was formed.
Hailing from all parts of the United States and Kingdom, and brought together by a love of Courtney Barnett, The Beatles, Mac DeMarco and Twin Peaks, they've assembled a lineup made up of mostly indie, sometimes garage-y, less-so-folky songs.
The guys (vocalist/guitarist Jared Rosen, drummer James Clubbe, bassist Spencer Riewerts and guitarist/vocalist Stefano Montali) are here to play some tunes and hope to see you soon.





7-11 Jesus


-from San Francisco, CA




-7-11 Jesus is a three piece garage rock band based in San Francisco. Their discography ranges from hard angular punk to softer, more catchy, melody driven dancing music. Vocals and guitar are performed by August Darula, bass by Emma Jacobson, and drums by Kieran Gill.