Friday February 28 2020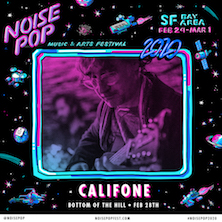 7:30PM

doors -- music at 8:30PM


••• ALL AGES




$

16

in advance

/ $18

at the door


Noise Pop Festival 2020 presents...


Califone


www.califonemusic.com/


americana avant-folk


Hangtown


www.facebook.com/hangtownsf/


Post-apocalyptic spaghetti western surf rock


Billie Gale
www.billiegale.com/


atmospheric dream-pop


Zachary Carroll
zacharycarrollmusic.wordpress.com/


abstract sentimental folk



---

Califone


-from Chicago, IL/ Los Angeles, CA




-Califone is led by Tim Rutili, with a rotating list of contributors and longtime collaborators including producer Brian Deck and percussionist Ben Massarella. Formed out of the Chicago band Red Red Meat, Califone explores the tension between experimental noise, acoustic texture, technology, humanity, cinematic images, and microscopic poetry, with more than a dozen albums of sleeper hits and enduring classics. Visit califonemusic.com to learn more.






Hangtown
-Robb Grimes
Reese Douglas
Matt Fogel
Nick Poulos
-frrom San Francisco, CA
-post-apocalyptic spaghetti western surf rockers





Billie Gale
Beth Garber
Adam Wayne
Eric Shawn
Justin Wayne
-from Oakland, CA
-Billie Gale's atmospheric, dream pop explores the beauty borne out of devastating loss. Taking its name from lead singer Beth Garber's late mother, the band's enveloping shoegaze textures blanket Garber's emotive lyrical outcries. Even the rain-soaked sounds of her native Pacific Northwest get a warm bath of reverb and dreamy synth.





Zachary Carroll


-from Sonoma, CA


-Zachary Carroll is a singer-songwriter from Sonoma, California. Towards the end of 2019, Zack put together a new four piece band that are ready to make their live debut.
Zack's debut solo EP "Medicine Mouth" was released in 2018 is available on digital platforms and as a limited edition cassette tape by the Crazy, Ha! label.
One Minute Cassette Reviews describes the EP by saying, "Medicine Mouth is a collection of six songs that flow seamlessly from first note to last." "Zachary weaves acoustic melodies with electric leads, along with mellow percussion in a DIY sensibility that adds up to a glorious yet brief EP. Minimalists decree that less is more, and with Medicine Mouth six exceptional songs leaves one savoring what we've been given. Essential summer listening."
Zack's previous release was a live recording called "solofi". The performance was recorded at the HopMonk Tavern in Sebastopol, California in 2017, while he was opening for acid-folk artist Lee Harvey Osmond. The Modern Folk Music of America featured the live version of Zack's song "Postcard" and highlighted it's, "psychedelic, emotionally expressive guitar solo".
Zack and longtime collaborator Kenneth Martin's 2004 album "Psychedelic Tour De Force" was named as one of the top 10 Lo-Fi Albums of the year by the on-line zine Heraclitus Sayz!. Other records on the list were by such critically acclaimed artists as Sufjan Stevens and Iron & Wine.