Tuesday March 3
2020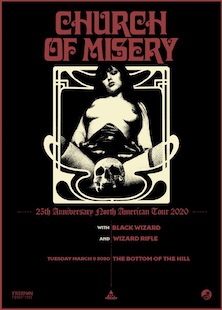 8:00PM

doors -- music at

8:30

PM




••• 21 AND OVER




$20

in advance

/ $23

at the door
Church Of Misery


from Tokyo, Japan


www.churchofmisery.net/


doom psychedelic rock


Black Wizard
www.blackwizard.org/


Heavy Metal//Rock


Wizard Rifle
www.facebook.com/wizardrifle/


scrap metal




---

Church Of Misery


-frm Tokyo, Japan


-Church Of Misery was formed by Tatsu Mikami in the spring of 1995 to play very individual DOOM rock influenced by early Black Sabbath and 70s heavy rock, with lyrics dedicated to famous serial killers like Manson, Dahmer, Ramirez, etc. The first album was recorded immediately after formation, to be released independently by the band, but was then released as a bootleg by a US label. This earned the band a lot of recognition in the international underground for their carefully crafted and memorable songs and their authentic 70s sound.

After the bootleg CD release their original singer was replaced by Nobukazu Chow. This line-up released a lot of material on various labels like the now legendary psychedelic/doom label "Bad Acid" (Electric Wizard, Farflung etc), and Frank Kozik's Man's Ruin Records. Despite the fact that they didn't play outside Japan until Fall 2005 the band was held in high regard around the world.

After the replacement of singer Nobukazu with Yoshiahi Negishi they signed with Southern Lord and released their first full-length album "Master Of Brutality" in March of 2001. Local gigs followed from 2001 to 2003 with the band often not playing actual songs but just jamming in freaky doomy Sabbath rock style. By the spring of 2004 Church Of Misery had signed with the Japanease label Diwphalanx. The second full-length album "The Second Coming" was released in July 2004 and featured 2 new members Hideki Fukazawa and Takenori Hoshi. In the fall of 2005 Church Of Misery executed their first European tour in support of the European version of "The Second Coming" from Salvation Records.

In 2014 everyone besides Tatsu Mikami left the band. He found a new vocalist and guitarist next year, but he recorded the next album, 2016's And Then There Were None... with US guest musicians. After a new drummer joined they resumed touring in 2017.





Black Wizard
Adam Grant (Vocals / Guitar)
Eugene Parkomenko (Drums)
Danny Stokes (Guitar)
Kent Law (Bass)
-from Vancouver, BC, Canada
-Black Wizard is a heavy metal and hard rock band from Vancouver BC, formed in 2009 between high-school friends. Founding members Adam Grant and Eugene Parkomenko were both working less than desirable construction jobs at the time, cranking the likes of Thin Lizzy, Deep Purple, Witch, or Electric Wizard as loud as possible to get through the days on site. Heavily motivated by Vancouver's thick and heavy scene, full of bands like Bison and 3 Inches of Blood ruling at the time, "The Wiz" was born. Having always followed a true DIY aesthetic, Black Wizard has independently released two full length LPs and a 7" single, selling over 5000 copies worldwide. In 2015, Black Wizard signed with Listenable Records (France) and released their third LP titled "New Waste". In the last few years the band has toured extensively across North America and Europe. Over the past few years, Black Wizard has kept busy touring with Volbeat and Killswitch Engage; Brant Bjork and Royal Thunder and started off summer 2017 supporting Weedeater and Serial Hawk.

Through the course of seven years, The Wiz has shared a stage with the likes of Sleep, Uncle Acid and The Deadbeats, Red Fang, Corrosion of Conformity, The Shrine, Mos Generator, Kylesa, Weedeater, Witch, Black Mountain, Zeke, Black Breath, Yob, Pierced Arrows, Saviours and close friends in Anciients.





Wizard Rifle
Sam Ford, Max Dameron
-from Portland, OR
-Wizard Rifle formed in Portland, Oregon in 2009. Teaming with Nanotear Booking, guitarist/vocalist Max Dameron and drummer/vocalist Sam Ford have performed extensively across the US and Canada, including appearances at Psycho Las Vegas, Hopscotch, Crucial Fest, MusicFest NW and SXSW, and tours with Bongzila, Buzzov*en, Black Cobra, Church of Misery, Saviors, Arabrot, Cutthroats 9 and NAAM.

Their powerful live shows and two full-length releases, 2014's "Here in the Deadlight" and 2012's "Speak Loud Say Nothing" have drawn great praise and kept critics and audiences on their toes. Wizard Rifle eludes classification and sonic pigeonholes, with an onslaught of sludgy psychedelic noise metal accented by vocal harmonies. On first listen many scoff at the possibility that such a cacophony could be produced by just two band members, but seeing is believing the force that is Wizard Rifle, and skeptics become Kool-aid guzzling disciples before the altar. Are you next?

Drawing from the sounds of Lightning Bolt, Karp, Sonic Youth, Black Sabbath and High on Fire, Wizard Rifle cannot sit still sonically for more than two seconds. Prepare thineself...