Wednesday March 11
2020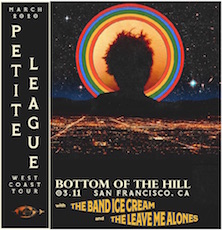 8:00PM

doors -- music at

8:30

PM




••• ALL AGES




$12


Petite League
www.facebook.com/PetiteLeague/


Garage Rock


The Band Ice Cream

----

Lofi Legs

off the bill


www.thebandicecream.com/home


garage hyphy rock disco power pop


The Leave Me Alones
theleavemealones.bandcamp.com/releases


twee pop punk




---

Petite League
Lorenzo Gillis Cook
Henry Schoonmaker
Adam Greenberg
Dan Pugh
-from Brooklyn, NY


-Petite League is a band born in Syracuse and raised in Brooklyn by a house full of passionate, talented, and diy-or-die boys. They just released Rattler on July 26th, their fourth release to date, and their first release on the newly minted label, Zap World Records. These little league boys have come a long way from their Syracuse days playing art spaces and basement shows. This album finds them at their best, expertly treading the fine line between lo-fi garage rock, indie pop, and pop-punk. They've seamlessly tied together a sound that's angsty and grungy, while catchy and relatable at the same time.






The Band Ice Cream
Joseph Sample (guitar and vocals), Kevin Fielding (guitar),
Raphael di Donato (bass), Dylan Murray (drums)
-from San Francisco, CA
-Dairy Rock/Melting Pop. Give me ice cream, or give me death. The Band Ice Cream from San Francisco, CA plays relatable garage rock songs for the damned. They come to you in frequencies and resonate with your loins. Your children will like them on summer nights. Your mother will love them on sale at Costco. Their latest album, Classically Trained, is a melting pot of dirty, fuzzy, slightly stupid rock n' roll that producer Bruce Botnick put his own personal flourishes on. Singles like "Wild", "Surfer Girl" and "Sick Over U" have landed them opening shows and festivals for the likes of Hinds, Sunflower Bean, Black Pistol Fire, Night Beats, Tijuana Panthers and more.





The Leave Me Alones
guitar - Marc
bass - Damian
drums - Dasha
vocals - Hayley
-from Oakland, CA


-"Fast and fuzzy twee pop from Oakland"