Friday March 13 2020
CLOSED


----current status (as of 3/20):
Until just a little ago, the band's agency and our booker were still trying to reschedule the show instead of just plain cancelling it. However, moments ago we learned that attempts to reschedule the same show at a later date this year were unsuccessful and now all purchased tickets will be refunded.
And so, we will be issuing a refund in full for your tickets and you will get that amount in your account, minus a small part which Paypal will get to keep as they refuse to return the fee.

-----previous notification (as of 3/13):
Minutes ago, Mayor London Breed announced an immediate ban on gatherings over 100 people. As a result, the show cannot take place tonight. At this moment, we do not know if the show will be rescheduled or canceled. We will notify you when a decision is made on that. We will wait on issuing refunds until we know more (besides we are at maximum capacity of workload at the moment.)


Friday March 13 2020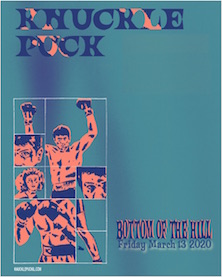 7:00PM

doors -- music at 8:00PM
••• ALL AGES
$
23

in advance

/ $25

at the door
Knuckle Puck
www.knucklepuckil.com/
pop-punk
Heart Attack Man
official.heartattackman.com/
powerpop
Better Love
www.betterlove.us/
Indie, Pop, Alternative, Rock
---

Knuckle Puck
John Siorek - Drums
Joe Taylor - Vocals
Ryan Rumchaks - Bass
Kevin Maida - Guitar
-from Chicago, iL
-Despite its title, the second album from Knuckle Puck isn't a reinvention; rather, Shapeshifter is the sound of the Chicago-based pop-punk band taking their best qualities and honing them to make them even sharper. The songwriting became tighter and more deliberate, the lyrics more introspective and urgent—without losing an ounce of the sweat-soaked authenticity and passion that made their debut album, Copacetic, so captivating.

Above all, it's an album that proves the band are unflinchingly unwilling to compromise when it comes to their art. That's evident on first single "Gone," perhaps the most fully realized Knuckle Puck song to date. It's equal parts muscular and melodic, textured with keyboards, buzzsaw guitars and a buoyant chorus that will integrate seamlessly into the band's raved-about live show.

"When you reach early adulthood and start to see your life take shape, it's also important to shape your identity and break yourself free from anything that might be holding you down," guitarist Nick Casasanto explains. "I hope the album instills a little bit of hope in people. I hope people realize they should consume the things that really speak to them. Through that, I feel like it's the most satisfying way to be who you want to be."





Heart Attack Man
Eric Egan - Vocals/Guitar
Adam Paduch - Drums
Tyler Sickels - Guitar
Seamus Groman - Bass
-from Cleveland, OH
-Cleveland's Heart Attack Man is the triple threat band you never you knew you needed until now. Not only are they taking the pop punk scene by storm, they are social media masterminds and comedy sketch connoisseurs. Meet the alternative quartet comprised of Eric Egan [Vocals, Guitar], Adam Paduch [Drums], Seamus Groman [Bass] and Ty Sickels [Guitar].






Better Love


-from Chicago, IL


-Collaboration, visualization, and empathy make up the core of Chicago pop rock group Better Love. After playing music for nearly a decade through a variety of different projects, musicians Jackie Heuser, Brad Harvey, Daniel Walton and Kevin Provencher came together with a common goal of creating music that would paint a picture for their listeners and connect with people on a deeper level. In their short time together since 2017, Better Love has done just that by sharing their own experiences and not shying away from writing about personal struggles that everyone can relate to. "When we write music, we want to be able to put other people in our shoes, or try to put ourselves in theirs. We try to express that any sort of mental illness does not have to feel like such a lonely thing. We're all trying to get through it, and we all need different things at different times," says vocalist and guitarist Heuser.

On the surface level, Better Love's music is driven by punchy guitars, unforgettable melodies, singalong choruses and the harmonious layering of Heuser and Harvey's vocals, but it's the transparency and vulnerability of their songwriting that continues to set them apart. Through songs like "Pretending" and "Stay With Me," Better Love has connected with hundreds of thousands of Spotify listeners; In 2019 alone, they saw a 767% increase of new listeners after being featured on curated Spotify playlists.