Friday March 27 2020
TBA
>>>>
The Detroit Cobras show is being rescheduled for Friday September 18th. Your tickets have been transferred to the new date automatically.
If the new date were not good for you, please contact us before April 18th for a refund.



previous note
, from 3/5
Ticket holders:
Due to health concerns, the Detroit Cobras show on March 27th will have to be rescheduled for later this year, exact date as yet unknown. Your tickets will be transferred to the new date automatically unless you request a refund, which you can do at any time. Once it is rescheduled, we will let you know the new date, and you will still have one more opportunity at that time to request a refund if you cannot make the new date.
Friday March 27 2020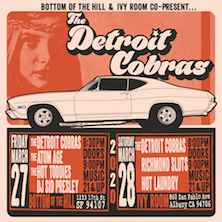 8:30PM

doors -- music at 9:00PM


••• 21 AND OVER




$

17

in advance

/ $20

at the door


Bottom Of The Hill & Ivy Room co-present...
The Detroit Cobras
thedetroitcobras.com/


Rock and Roll / Soul


The Atom Age
www.facebook.com/theatomage/


maximum r&b surf stomp


The Hot Toddies
www.facebook.com/TheHotToddies/


indie Rock / Surf Pop


&) Sid Presley
www.facebook.com/DjSidPresley/


rock&roll, surf, mod




---Bottom of the Hill and The Ivy Room co-present the soulful garage rock legends the Detroit Cobras, on both stages, March 27 in SF and March 28 in Albany! These shows inaugurate the two nightclubs joining as sister venues across the Bay, female owned and proudly independent! The support will be different on each show, so grab tickets to both while they last!
---
The Detroit Cobras
Rachel Nagy(vocals, cigarettes)
Mary Ramirez (guitar)
-from Detroit, MI

-Crawling out from the weed-choked lots of the once proud town, The Detroit Cobras whip out ass-shaking anthems to good times, wild times, and the high and lows of L-U-V-E; you best believe it and you best not mess with it. Singer Rachel Nagy and guitarist Mary Ramirez are the bad girls by the exit doors at the school dance, all leather and heels, sneaking smokes and passing the flask. They have no time for dewy-eyed love songs or girl group decorum; theyll take care of business themselves with a bat of the eye or an elbow to the kidney. Rachels warm as the bourbon under the seat of your car voice can boom to the back pews (Did we say "pews?" We meant "barstools") and Marys riffs let you know that love and good times can be found in the tilt of a hip or at the end of a fist.


The Atom Age
Ryan - Vox Gtr
Peter - Vox Gtr
Brendan - Sax
Fred - Organ
Tim - Drums
Spellman - Bass
-from Oakland, CA

-The Atom Age find their inspiration from the dust covered collections of unhinged 60's punk and R&B, whose crazed energy was once misconceived as a better fit for your trashcan than for your turntable. While taking many of their cues from these primitive pilgrims of punk, The Atom Age still strive to lay down their own modernized take on the sound. The band's new record, Hot Shame, was co-produced by Blag Dahlia of the Dwarves, and channels a wide range of influences from bands like The Sonics, Link Wray and the Murder City Devils.


The Hot Toddies
Heidi - bass/vocals
Erin - guitar/vocals
Sylvia - drums
-from Oakland, CA
-The Hot Toddies, an all-girl band from Oakland, CA mix sunny beach pop, indie rock riffs and a dry sense of humor. Heidi, Erin and Sylvia are best friends who have been playing music, drinking whiskey and writing songs together since 2005. They've toured across the US, Canada and the UK in support of their 2 albums "Smell the Mitten" and "Get Your Heart On" out on Asian Man Records. Their latest EP "Bottoms Up" was released on Tricycle Records in Feb 2013.





&) Sid Presley
David Greenfield
-from Pacifica, CA

-50's-60's Rock and roll, Surf/Instro, Rhythm & Blues, Pop, Garage, Asian & International, Mod, and more!