Sunday May 17 2020
\
CLOSED
This show is
now canceling, not postponing.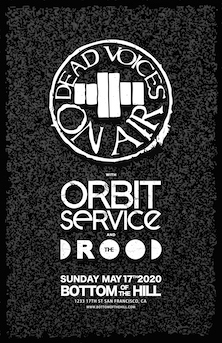 Sunday May 17 2020

8:00PM

doors -- music at 8:30PM
••• 21 AND OVER
$15
in advance

/ $20

at the door
Dead Voices On Air
dark ambient ethno industrial
Orbit Service
downtempo, psychedelic
Drood
Experimental Rock
---

Dead Voices On Air


-from Northumberland, UK


-Dead Voices on Air (DVOA) is Mark Spybey's main musical project. It was formed in 1992 when he emigrated to Canada from his native England. Using improvisation and sound layering as a source for their music, DVOA blends processed sound from primitive instruments and toys into rhythmic structures or dark clusters of ambient sound. The result is music for the eyes. This is not ambient chill-out, nor is it music for wallpaper. It is organic, eclectic improvisation, cut up and spat out. Either framed into short pieces of music or rough blocks of noise. Panambience is the term coined that perhaps frames this approach most adequately.

Spybey has worked under the name of Dead Voices On Air (DVOA) for twenty seven years. He's released numerous albums and collaborated with a variety of people, including members of Can, Faust, Swans and others. He was a member of Zoviet-France and Download. Other projects include Reformed Faction, Beehatch, Gnome and Spybey, and Propeller .





Orbit Service
-from Denver, CO
-Randall Frazier has been performing solo and in various band incarnations as Orbit Service since the 1990s, releasing no less than 5 brilliant moody albums since 2001. With beginnings in dark psych rock tempered by contemporary influences from Slint to Palace Brothers, the Orbit Service sound has increasingly moved outward into experimental realms. His most recent two albums on Beta-lactam Ring Records 2011's A Calm Note from the West and last year's Stereo Magic (Portal In 13 Parts) are steeped in musique concrete, electronic drone, and inner ear echoes. Randall's haunting voice, however, is always floating atop the sonic wave machines, and somehow uses profound alienation to make the music more accessible. His collaboration with the Legendary Pink Dots called A Star Too Far released Saucers Over Lincoln another astounding album on BLR in 2015 that remarkably sounds more like Orbit Service than LPD. - KPSU (Portland).
"emotionally draining and highly recommended..." - Francois Couture, All Music Guide





Drood


-from Lafayette, LA




-Drood is an Experimental Rock band from Lafayette, La.









\