Saturday November 21 2020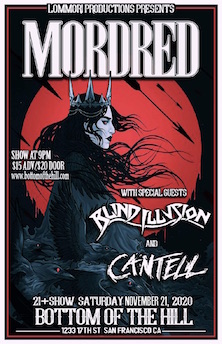 <<<< rescheduled from 8/8 <<< from 5/16


8:30PM

doors -- music at 9:00PM


••• 21 AND OVER




$

15

in advance

/ $20

at the door


Lommori Productions

presents...


Mordred
www.facebook.com/MordredBand/


thrash metal


Blind Illusion
www.blindillusionofficial.com/


Progressive Thrash Metal


Cantell
cantell.rocks/


thrashpunk/mathrock/metalcore



---

Mordred


-from San Francisco, CA


-Before Anthrax collaborated with Public Enemy, before Rage Against The Machine tore up the DNC convention, and before Limp Bizkit shredded Woodstock, there was a band called Mordred from the Bay Area of San Francisco, California that started it all.

Mordred were formed back in 1984 in the San Francisco Bay Area during the era that gave us the big 4: Metallica, Slayer, Anthrax & Megadeth.

One of the first bands in the cross over thrash metal genre, They released their debut album Fools Game back in 1989. Fool's Game gave birth to the hit single Everyday's A Holiday, a huge crowd pleaser at the live shows; it also yielded a video which played in heavy rotation on MTV & other music stations internationally in addition to helping secure a successful American/European tour supporting the likes of Sacred Reich, Overkill, Nuclear Assault and Celtic Frost.

In 1991 came their second album, In This Life, which garnered 5 star reviews like Kerrang magazine's
https://www.facebook.com/media/set/?set=a.1389669184606211.1073741830.1377819649124498&type=3
This album spawned 2 hit singles, Falling Away & Esse Quam Videri. Both videos for the singles enjoyed heavy rotation on MTV and worldwide. Touring for support of In This Life produced a live home video, In This LIVE, from one of their amazing headlining shows at the Marquee club in London which sold out both nights.

1992 arrived & Mordred release the 6 track EP that was Vision. The EP included a wide variety of the crossover thrash sound & again enjoyed lots of radio exposure.

The band are pleased to announce that it is the line-up that is responsible for the In This Life & Vision records that has reformed. The line-up comprises of:
Scott Holderby--vocals
James Sanguinetti--guitars
Danny White--guitars
Art Liboon--bass
Aaron (Pause) Vaughn--keyboards, vocals, turntables
Jeff Gomes--drums

On October 20, 2013, Mordred created their official Facebook page https://www.facebook.com/MordredBand and a few days later, they announced a reunion with the "In This Life" lineup. They plan to tour in the summer 2014 and release new material as a number of great new tracks have been written. Since this announcement a number of interviews have taken place, most notably with Seb Martino of Metal Mayhem:
http://themetalmeltdown.wix.com/the-metal-gods#!the-metal-gods-interviews/c1si1
& features both Scott & Danny of the band. Firebrand magazine issue 38 page 70 as well http://massmovement.co.uk/downloads/

Check out the official Mordred Facebook & Twitter https://twitter.com/MordredBand pages to find out about current plans for a summer tour with new material and original vocalist Scott Holderby.





Blind Illusion


-from Bay Area, CA


-The Epic Original Progressive Thrash Metal band established in 1978! It's first release featured Mark Biederman, Les Claypool, Larry Lalonde, and Mig Miner on the cult classic album The Sane Asylum.

In 2017 Blind Illusion reformed with Mark Biedermann, Doug Piercy featured on guitars at the Head Bangers Open Air Festival in Germany. 2018 saw them back in Germany at the Keep it True Festival. Then in 2019 they toured with the amazing young Thrash band from Luxembourg Fusion Bomb! The Slam Asylum Tour 2019 played shows in Germany, Belgium and the Netherlands at the Heavy Metal Maniacs Festival.

Blind Illusion in currently mixing 3 brand new songs and continues to write original material for a new album in 2020! Mark Biedermann and Doug Piercy battle it out on dueling lead guitars while Tom Gears and Brian Schwartz lay the foundation on bass and drums!





Cantell
Rando, Rick, Salvo and DAP
-from BERKELEY, CA
- Cantell seem rather reckless with their sonic darts. This aim and aggression of these East Bay natives draw from several rockwells, a variety uncamped at any one bucket. Is it thrash/punk compiled, ragey math-rock, or Maidenesque metalcore? A tough call for any listener to ID their brand of swiss. Rick exemplifies this like a 2nd guitar player with unsettled, splintered jablines, yet the open-note-drops confirm it's a bass. Salvo A.D.D.'s the drumkit into a jungley, multi-paced battery; a squinting rhythm section well-oiled by Dap, whose melodesia never shies to chug or sprint, weaving subtle blues chops into his assertions. All good for Marlon Rando, fronting a thunderous growl & seasoned Tito's timbre through his holler, swelled by backups from the rest. Easy to assume they're aiming to miss the dartboard completely; like a kid hucking for the first time, you figure it out or not…maybe you just Cantell.
Rick (Garett Fujimura) Bass/voxSalvo (Eric Salvador) Drums/voxDap (Daniel Paragas) Guitar/voxMarlon Rando (Randy Markham) Guitar/lead vox

Gripping vocals, shredding lyrics, and a strangely optimistic melancholy are the meat and potatoes of Cantell's music. A percussive, rock band capable of leaving emo fans shaking, punkers with their jaws on the floor, housewives quivering, and metal kids feeling hip for a second or two. Cantell is as pure and emotional as it gets. With thick layers of instrumentation fronted by Randy Markham, in-your-face voice and a tender ear for sophisticated pop poignancy, Cantell is able to combine the smarts of metal with the boldness of punk. All while crafting tightly produced, hook-laden rock, appealing to indie, folk, and pop fans alike. To put it another way, Cantell takes you to a time when the party has ended. The premises has been vacated, and you're left to clean up the mess, wondering how you ended up in this situation, reminiscing of how you didn't get the girl at the party, and how life doesn't seem to be coming up roses at the moment. Though, even with a dark, moody atmosphere looming overhead, a bit of sunshine cracks through the clouds and promises that tomorrow might, just maybe, be a bit better and the day after that may find you shaking the dust off and picking yourself right back up. Here is a band that hides the optimism, but has plenty of it. This is what you always crave after the dark times seem to be setting in. -Cantell is Randy Markham (Marlon Rando) vocals , Daniel (DAP) guitars, Fuji (Rick) bass and Eric (Salvo) drums.